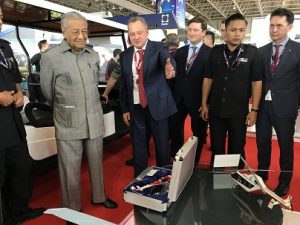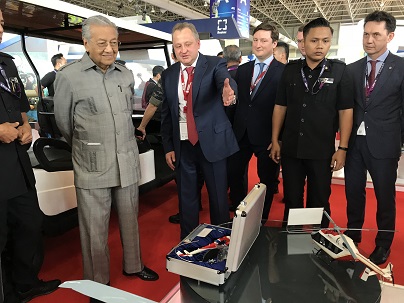 Langkawi. 26 March 2019. Prime Minister of Malaysia Mahathir Mohamad visited a stand of Russian Helicopters when he attended the LIMA-2019 exhibition. Russian Helicopters Deputy CEO for Aftersales Service Igor Chechikov who headed the holding company's delegation told him about the state-of-the-art helicopters designed in Russia.
"As part of this exhibition we present the Ansat and Mi-171A2 helicopters which were in Malaysia last year within the demonstration tour across Southeast Asia. Besides, here you can see our new civilian helicopter Mi-38, which occupies a niche between the classical Mi-8 and Mi-26 machines. We intend to develop fruitful cooperation with our partners from Malaysia and offer them both advanced machines and flexible service and aftersales service systems," said Igor Chechikov.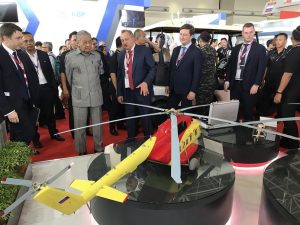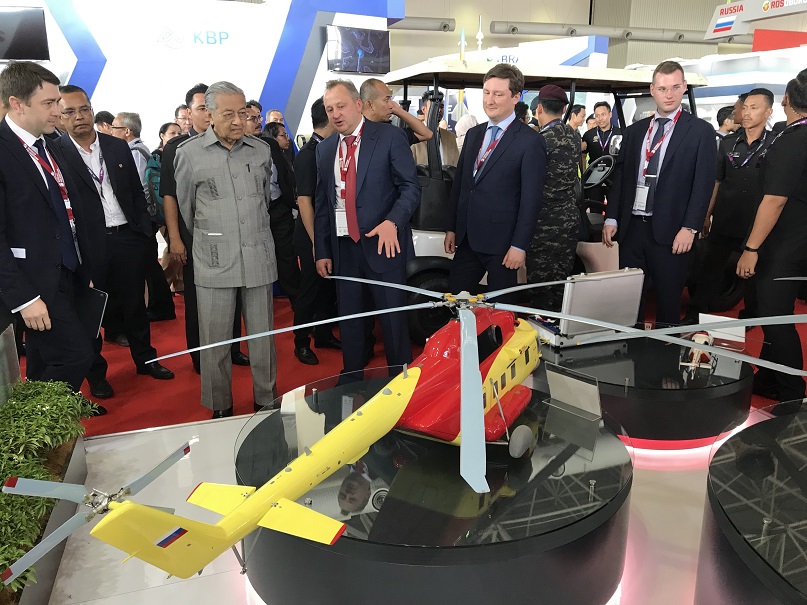 The head of the holding company's delegation presented Mr. Mohamad with the Mi-171A2 helicopter in the same livery as it had during the demonstration tour.
"Malaysia is one of the key Rostec's markets in Southeast Asia. Russia and Malaysia have been partners in the aerospace industry for decades. For instance, Malaysia successfully operates several Mi-17 helicopters," said Viktor Kladov, Director for International Cooperation and Regional Policy Department of the State Corporation. "We aim to expand our partnership in aviation, and we are ready to consider various cooperation options, from granting loans for supply to establishing joint service centers and technology transfer."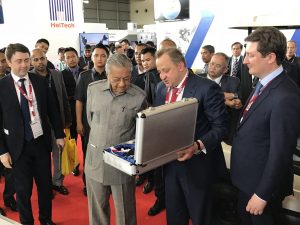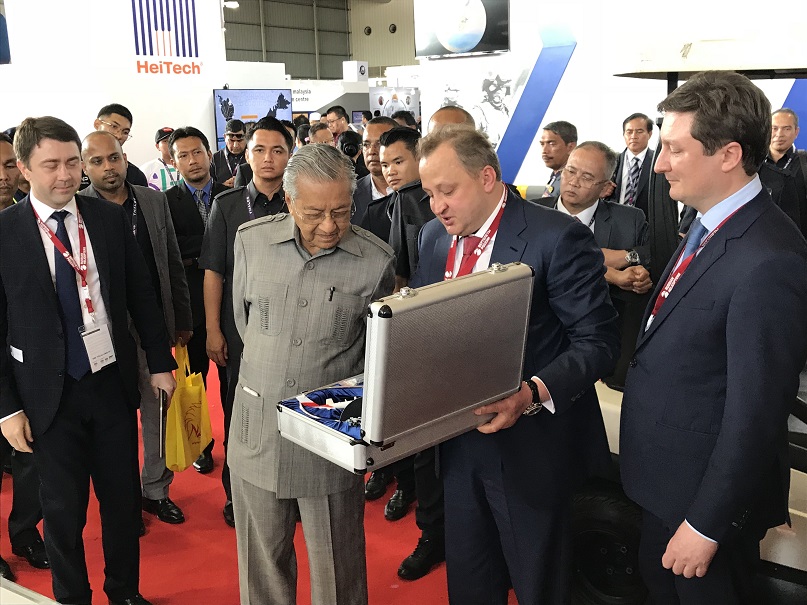 We would like to remind you that as part of the demonstration tour of Russian helicopters in Southeast Asia participants of Airshow China in Zhuhai (China) and potential customers from Vietnam, Cambodia, Thailand and Malaysia acquainted themselves with the capabilities of both machines. Demonstration of full-size civilian machines in these countries allowed us to reach certain agreements and form a large portfolio of orders for the Mi-171A2 and Ansat helicopters. The helicopters flew almost 5,000 kilometers. Overall, more than a thousand representatives of state and commercial operators attended demonstration flights. The machines confirmed their performance and proved that they can be used efficiently in high temperature and almost 100% humidity.