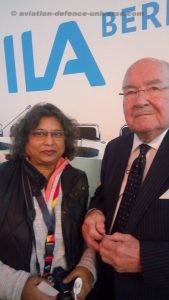 By Sangeeta Saxena
New Delhi. 08 May 2018. What an amazing day it was at ILA 2018 at Berlin? Growing up over the years as an aviation enthusiast, I was always in awe of surnames like Curtiss, Sikorsky, Wright and Boeing. And this is where the aviation buff in me overtakes the journalist. So the moment saw the invite to attend a press conference by Sergei Sikorsky at the Conference Hall of the Media Centre at ILA , I rushed only to find the hall full and a chair left empty at the left hand corner of the last row. Claiming my right to that chair by putting my laptop on it, I rushed to the centre pathway to focus on the living legend who was getting introduced to the media. Never in my life had I ever thanked my lucky stars for not getting a front seat. Here I was in front of the son of the father of helicopters Igor Sikorsky whom I have always hero worshipped, and listening to every word he spoke from not even a foot away, sitting on the floor and living the experience.
Sergei Igorovich Sikorsky is still full of enthusiasm when he talks about his father's dream which resulted into the helicopter, a machine which is an asset incomparable to the modern world functioning. " You read in the news papers that somewhere in some corner of the world, some thing went wrong and it was the helicopter which was there to save lives. It is a living and breathing monument to the men who work hard to save the nations," he said.
So much in love is he with his CH-53 King Stallion and reiterated that take the skin off and it is a brand new aircraft, heavy-lift helicopter any Army, Navy or Air Force would be proud to have. He stressed that the CH-53K aircraft is an all-new aircraft, using modern intelligent design. The rugged CH-53K is designed to ensure reliability, low maintenance, high availability and enhanced survivability in the most austere and remote forward operating bases. The CH-53K helicopter is the best choice for completing missions like humanitarian aid, troop transport, casualty evacuation, support of special operations forces, and combat search and rescue. No matter the mission, the aircraft will provide the highest degree of safety for its crew and occupants in all conditions.
After the fifty minutes long press conference I rushed to click a selfie and after that a picture clicked with the legend and also took a promise of an exclusive video chat which he fulfilled the very next day standing next to the model of his favourite King Stallion at the LM pavilion. My day was made and came back feeling blessed. ILA for me turned out to be a pilgrimage and not just a routine air show.