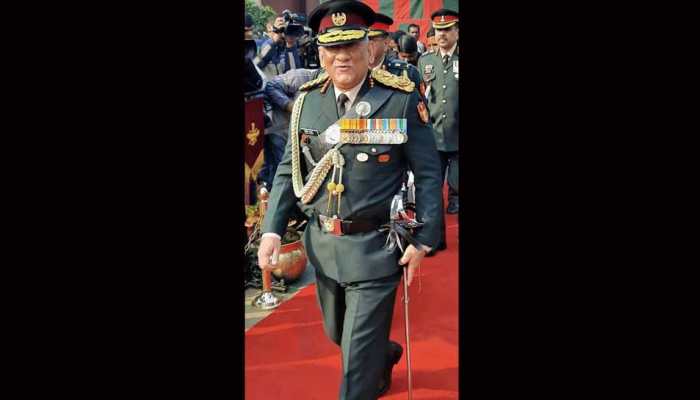 Remembering the officer & the gentleman
By Sangeeta Saxena
New Delhi. 08 December 2022. Soldiers never die they gain immortality, is the biggest truth for a nation and it's military. And a year after Gen Bipin Rawat former CDS of India died in the fateful crash on his way to address the Defence Services Staff College,  this statement is more imperative. The Chief with a smile , courtesy personified  and a CDS with futuristic plans, India remembers the soldier who was also a perfect gentleman and a forthright general.
It was an emotional farewell to India's first CDS Gen Bipin Rawat and his wife Madhulika Rawat, when their mortal remains were consigned to flames at Delhi's Brar Square Military Crematorium. The two daughters Kritika and Tarini lit the funeral pyre amidst an unprecedented show of unity by India as a whole.
The nation with moist eyes had bid goodbye to a General, who gave the common masses the sense of nationalism and pride. He was the people's General and had their faith strong in his reiteration that the nation is secure and in safe hands of its armed forces. The nation was a perfect example of unity in diversity when citizens from all the regions, speaking different languages bid teary eyed farewell to the CDS who was cremated with full military honours with slogans of Bipin Rawat Amar Rahe in the background. And the Indian Army very aptly tweeted, "Our flag does not fly because the wind moves it; it flies with the last breath of each soldier who died protecting it."
General Rawat had left an unfinished but ongoing agenda. It was after a long wait of nearly ten months India got a replacement for him in Lt. General Anil Chauhan, on September 30, 2022 who was a superannuated officer. Prior to this coveted appointment General Chauhan served as the Military Advisor in the National Security Council Secretariat, which enabled him to work closely with the National Security Advisor, Ajit Doval.
General Rawat had proposed establishing five theatre commands to replace the current 17 service-specific commands and consequently create a joint combat capability . It was taking it forward doggedly despite opposition from the Navy and the Air Force. Gen Chauhan is treading softly but firmly on the path created by his predecessor.
General Anil Chauhan has just the right background and experience for strategic leadership of the Indian Armed Forces and advisory role towards the MoD. As a Major General, he commanded the Baramulla-based 19th Infantry Division in the Northern Command . He was Corps Commander of the Dimapur-based 3 Corps. He was the Army Commander of the Eastern Army till his retirement not to forget his tenure as the Director General of Military Operations between 2018-19.
His next challenge is to guide the forces to pursue the goal of Atmanirbhar Bharat to reduce dependency on importing expensive equipment and creating a level playfield for the indigenous industry and reaching a level where exporting to the world should be aimed. This is a task left in legacy from General Rawat, who strongly pushed Make in India, Make for India and Make for the world.
Another important issue he will have to address is the most volatile one of Agnipath, which  is  the biggest reform in manpower management of the Indian armed forces since independence. As the government and the military have already operationalised it, he seems to have  managed to get the initial volatile reactions to an end.  But he has to ensure that it does not effect quality and combat readiness of the forces.
And the most important challenge will be his role as CDS to help fulfil the deficits of  arms and equipment existing in the three forces which were being strongly looked into by the previous CDS . The fact that Aatmanirbhar Bharat and Self Reliance will be long drawn processes necessary imports will have to be given AoNs to keep the forces combat sufficient  to meet any contingency with two not-so-friendly neighbours on the doorsteps.
Today after an year from Gen Rawat's sad demise, the nation is happy that the legacy has fallen into capable hands. There are many reasons for a Lt. General to not become a Chief which could be retiring at a time when the Chief might still have time to finish the tenure. But that doesn't lessen a soldier's ability, competence and potential to be a great leader. For all murmurs in corridors of South Block over General Chauhan not having led the Indian Army as COAS, the answer is government has made a choice and lets give the man in seat a chance to prove himself.
"Courage is what it takes to stand up and speak; courage is also what it takes to sit down and listen, " said Winston Churchill. Stands so true for the role of CDS. Perseverance through adversity is key to succeeding in battle, and in life. This is what the first CDS always said and this is what his successor should also be feeling. He sure knows that it's the ability to push forward that matters most. All the best to his endeavour which definitely will  make his predecessor happy above.
ADU remembers CDS Rawat, a soldier's general with nostalgia. It recalls all the meetings and interviews with the Chief of Army Staff Gen Bipin Rawat which left a mark in the minds with his warmth and courtesy. ADU salutes his memory with pride.