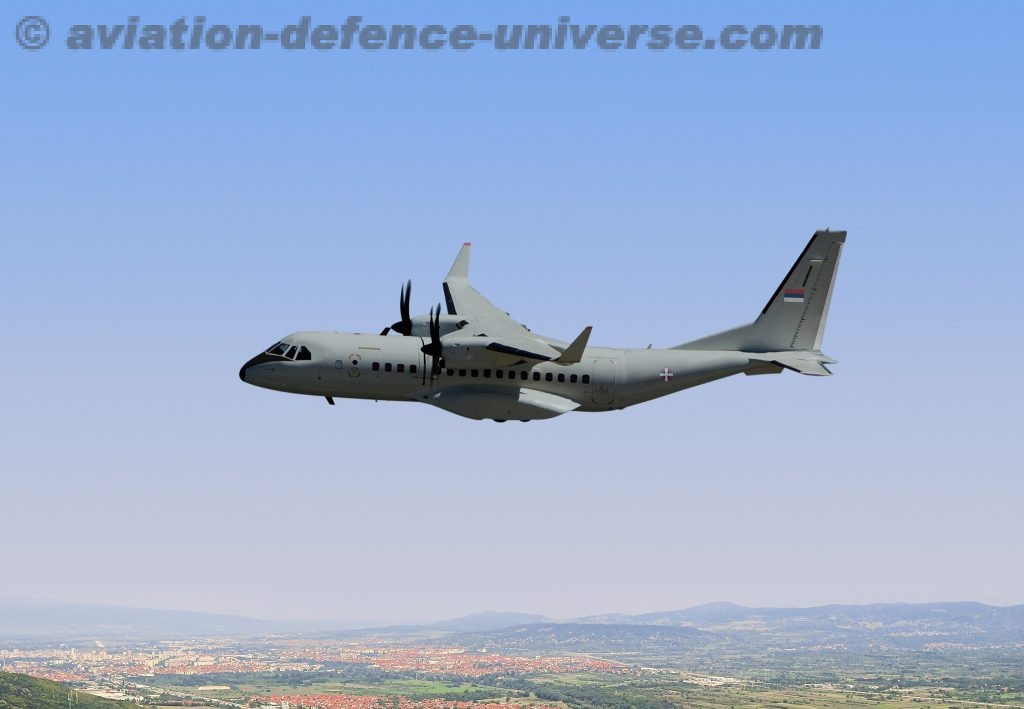 By Sangeeta Saxena
Aboard IAF's C-17. 30 October 2022.  The stage is all set for the biggest story of atmanirbhar bharat. ADU is on it's way to watch this story unfold and report it live from Vadodara. Prime Minister Narendra Modi will lay the foundation stone of C-295 Aircraft Manufacturing Facility – the first aircraft manufacturing facility in private sector in the country. This facility will be utilised for manufacturing of 40 C-295 aircrafts for the Indian Air Force, through collaboration between Tata Advanced Systems Limited and Airbus Defence and Space, Spain.
A large number of detail parts, sub-assemblies and major component assemblies of aero structure are scheduled to be manufactured in India. The programme will act as a catalyst in employment generation in the aerospace ecosystem of the country and is expected to generate 600 highly skilled jobs directly, over 3000 indirect jobs and an additional 3000 medium skill employment opportunities with more than 42.5 lakh man hours of work within the aerospace and defence sector of India. It will involve development of specialized infrastructure in form of hangars, buildings, aprons and taxiway.  During the process of manufacturing in India, it is expected that all the suppliers of TATA Consortium who will be involved in special processes will gain and maintain globally recognized National Aerospace and Defence Contractors Accreditation Program (NADCAP) accreditation.
Before completion of deliveries, 'D' Level servicing facility (MRO) for C-295MW aircraft are scheduled to be setup in India. It is expected that this facility will act as a regional MRO hub for various variants of C-295 aircraft.   In addition, the OEM will also discharge its offset obligations through direct purchase of eligible products and Services from Indian Offset Partners giving further boost to economy. This programme is a unique initiative of Government of India to strengthen indigenous capabilities and boost 'Make in India'.
India has formalised the acquisition of 56 Airbus C295 aircraft to replace the Indian Air Force (IAF) legacy AVRO fleet. It is the first 'Make in India' aerospace programme in the private sector, involving the full development of a complete industrial ecosystem: from the manufacture to assembly, test and qualification, to delivery and maintenance of the complete lifecycle of the aircraft.
Under the contractual agreement, Airbus will deliver the first 16 aircraft in 'fly-away' condition from its final assembly line in Seville, Spain. The subsequent 40 aircraft will be manufactured and assembled by the Tata Advanced Systems (TASL) in India as part of an industrial partnership between the two companies. The first 16 aircraft will be delivered over four years after the contract implementation. All the IAF C295s will be handed over in transport configuration and equipped with an indigenous Electronic Warfare Suite.
"This contract will support the further development of India's aerospace ecosystem, bringing investment and 15,000 skilled direct jobs and 10,000 indirect positions over the coming 10 years," said Michael Schoellhorn, CEO of Airbus Defence and Space. "The C295 has proven again as the segment leader, and with the addition of India as a new operator, the type will enlarge its footprint even more, not only on the operational aspects but on its own industrial and technological development".
'Make in India' is at the heart of Airbus strategy in India, with the company constantly increasing the country's contribution to its global product portfolio. The C295 programme will see Airbus bring its complete bouquet of world-class aircraft manufacturing and servicing to India in collaboration with our industrial partners, including the Tatas and leading defence public sector units such as Bharat Electronics Ltd. and Bharat Dynamics Ltd, as well as private Micro, Small and Medium Enterprises, he added.
Sukaran Singh, Managing Director and Chief Executive Officer, Tata Advanced Systems Limited, said, "This is a moment of pride for Tatas and a milestone for the Indian military manufacturing ecosystem. For the first time, an Indian private company will be wholly manufacturing an aircraft in India. This endeavour demonstrates Tata Advanced Systems' capabilities as a defence manufacturer to build globally competitive complex platforms in India."
As we inch forward to reach the site the excitement is palpable inside the aircraft . Everyone is expectantly sitting waiting to witness Indian aviation history in the making. And I am remembering my journey of seeing C-295 in all stages of manufacture and assembly at the Final Assembly Line at Secville in Spainfrom late 1990s. It has been an incredible journey from CASA C-295, to EADS CASA C-295, to Airbus Military C-295 to Airbus Defence & Space C-295 which I took to see the transport aircraft from design to its current state-of-the-art avatar. Late 1990s to 2022 a select group of journalists were always there to see the growth of this European mid size marvel which airforces loved to have in their fleet. The manufacturing and final assembly line in Seville Spain was an annual visit to see it in various stages of assembly. It will be an ultimate pleasure to see it being made in India for Indian Air force. Countdown to the inauguration at Vadodara Gujarat has begun. Shall get you all live from there tomorrow. Meanwhile my memories of one of the Trade Media Briefings to the FAL in Spain might interest you all .