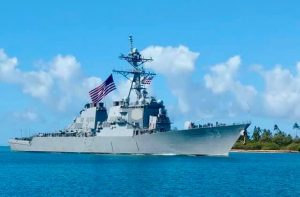 Dear Friends,
It is exactly ten days since the US gave a trailer of it's big brother act, when it's 7th Fleet Public Affairs in a most brazen statement said, "On April 7, 2021 (local time) USS John Paul Jones (DDG 53) asserted navigational rights and freedoms approximately 130 nautical miles west of the Lakshadweep Islands, inside India's exclusive economic zone, without requesting India's prior consent, consistent with international law. India requires prior consent for military exercises or manoeuvres in its exclusive economic zone or continental shelf, a claim inconsistent with international law. This freedom of navigation operation ("FONOP") upheld the rights, freedoms, and lawful uses of the sea recognized in international law by challenging India's excessive maritime claims." It might be a surprise for some, shock for others but definitely matter of concern and an issue to ponder. Was it true that when India and US had just shaken their military hands with the US Secretary for Defence visiting India and John Kerry United States Special Presidential Envoy for Climate, was still in New Delhi, wooing India for it's support in Paris, and here was the USA in it's authoritarian best at the seas of India. Is it the same US which a few weeks back at the Quad Summit had reiterated for the umpteenth time that India is its collaborator and friend? Food for thought indeed.
But the biggest question mark is why did Indian government react after two days and that to with a whimper. "The Government of India's stated position on the United Nations Convention on the Law of the Sea is that the Convention does not authorise other States to carry out in the Exclusive Economic Zone and on the continental shelf, military exercises or manoeuvres, in particular those involving the use of weapons or explosives, without the consent of the coastal state. The USS John Paul Jones was continuously monitored transiting from the Persian Gulf towards the Malacca Straits. We have conveyed our concerns regarding this passage through our EEZ to the Government of U.S.A through diplomatic channels." Why conveying of concern why not putting forth protest and that to strongly?
The same day in the weekly Pentagon press briefing responding to a question on India's Foreign Ministry's statement John Kirby the official Spokesperson responded , " What I can tell you is that the USS John Paul Jones, a Navy destroyer, asserted navigational rights and freedoms in the vicinity of the Republic of the Maldives by conducting innocent passage through its territorial sea, in normal operations with its exclusive economic zone, without requesting prior permission and that's consistent with international law. Again, we will continue to maintain the right, indeed the responsibility to fly, sail and operate in accordance with international law?"
From global commons and freedom of navigation (FON) to UNCLOS legal maritime activity in trade and other non-military arena do not get raised eyebrows at high seas. But when it comes to military movement by naval platforms, the United Nations Convention on the Law of the Seas (UNCLOS), which defines territorial waters (12 nautical miles from the coast), a contiguous zone (24 nautical miles) and an EEZ that extends to 200 nautical miles, makes it a subject of scrutiny and nations of the world monitor it. Friendly nations do not object to these passages whereas not-so-friendly nations are well within their right to object. But the surprise is when a naval ship passes through friendly waters , rather than saying a profound thank you they justify their rights to be in those waters. Especially when the nation is sure to be an ally in stands against enemy countries. India has been a major partner in America's policy to counter China and hence in the current situation this development was unwarranted for.
Did the US Navy 7th Fleet in its projection of one-upmanship and glee write that release and never realised it would create a furore in Indian media? Was US ship in Indian waters an American high headedness or a strategy to pacify China that South-China Sea is no exception they do it even with friendly nations and also they were big brother enough to do the same in the Indian Ocean? The petered down response of India could also mean they were informed that this passage would happen and India took a stand that it would react for the world to see.
Anything could be the reason but this episode does put forth a thought-is it time to introspect the Indo-US ties. Probably the Indian authorities do need to convey to the Uncle Sam that friendship thrives on taking each other into confidence and not giving rude shocks.
Sangeeta Saxena
17th April 2021