India looses a people's politician
BJP mourns its most popular woman face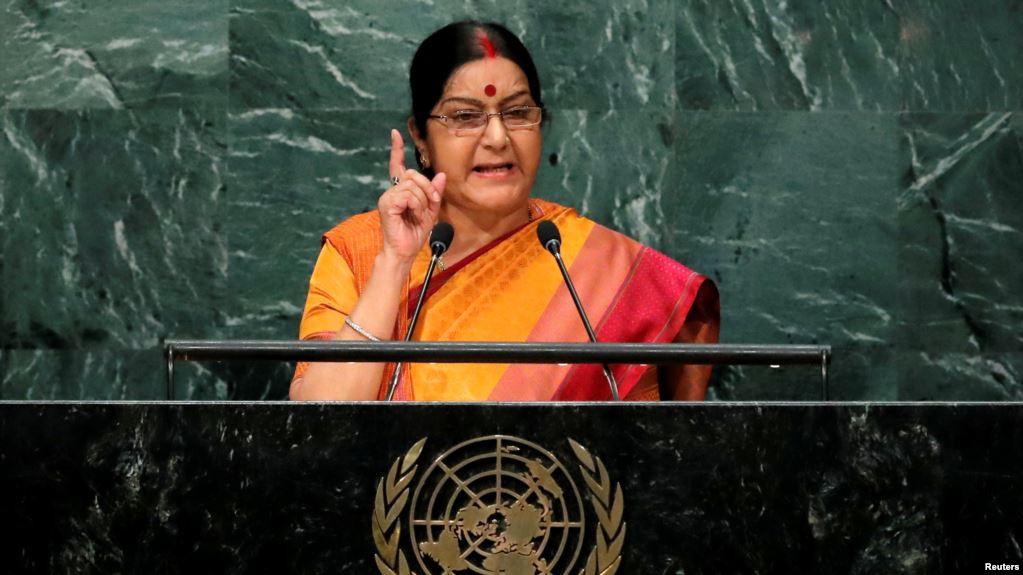 New Delhi. 06 August 2019. Indian polity's most popular woman face, a prolific orator, a people's politician, a committed leader and a beyond party lines Parliamentarian Sushma Swaraj is no more. She succumbed to Cardiac Arrest late evening and India grieves this daughter of the nation.
Some of the most memorable speeches and interventions in the Parliament hers. Whether it was as the Minister for Information & Broadcasting in Vajpayee led NDA government of External Affairs Minister in Modi1 cabinet, Sushma Swaraj exuded confidence, commitment and charisma while working with an infectious zeal. She never compromised and never left a work half done.
She was elected seven times as a Member of Parliament and three times as a Member of the Legislative Assembly. At the age of 25 in 1977, she became the youngest cabinet minister of Indian state of Haryana. She also served as 5th Chief Minister of Delhi from 13 October 1998 to 3 December 1998.

Swaraj began her political career with Akhil Bharatiya Vidyarthi Parishad in the 1970s. Her husband, Swaraj Kaushal, was closely associated with the socialist leader George Fernandes and Sushma Swaraj became a part of George Fernandes's legal defence team in 1975. She actively participated in Jayaprakash Narayan's Total Revolution Movement. After the Emergency, she joined the Bharatiya Janata Party. Later, she became a national leader of the BJP.
She was a member of the Haryana Legislative Assembly from 1977 to 1982, acquiring the Ambala Cantonment assembly seat at the age of 25, and then again from 1987 to 1990. In July 1977, she was sworn in as a Cabinet Minister in the Janata Party Government headed by then Chief Minister Devi Lal. She became State President of Janata Party (Haryana) in 1979, at the age of 27 years. She was Education Minister of Haryana state in the Bharatiya Janata Party–Lok Dal coalition government during the period of 1987 to 1990.

The corridors of Ministry of External Affairs in South Block will never forget the motherly conduct of the Minister for four years. Any Indian stranded anywhere in the world was just a tweet away from help.Whether it was Sarabjit or Kulbhushan Jadhav Sushma Swaraj helped an Indian in distress anywhere in the world.
The list of her positives are endless and so is the list of help rendered to the needy. She played a key role in smoothing ties with nations. She set high standards of conduct and expected the same from others. ADU mourns the loss of this dynamic and humane leader.