Moscow. Su-57, a fifth-generation jet fighter, will be demonstrated both on a static display and in flight at MAKS-2019 for the first time, as reported by RIA Novosti with reference to the press service of the United Aircraft Corporation.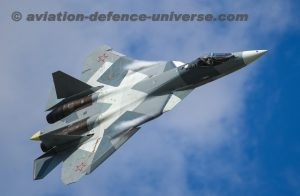 International Aviation and Space Salons traditionally become the venues for the presentation of new domestic aircraft. For example, world premiere of the Su-57 fighter jet – then under its T-50 factory index – took place on the 17th of August at MAKS-2011. Two years later, at MAKS-2013 there was the aerobatics show with a team of three fighter jets of this type
In addition to the Su-57, the enterprises belonging to the UAC will present multipurpose fighters Su-35, Su-30CM and MiG-35, fighter-bomber Su-35, as well as training, civilian aircraft and special purpose aircraft at the static exposition and in the flight display.