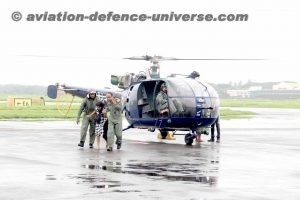 Kochi. 16 August 2918. Even as the flood situation became grim all across the state of Kerala, Southern Naval Command had deployed a total of 40 rescue and diving teams with Gemini boats in multiple locations as of 05 : 00 pm on 16 Aug 18, the eighth day of #OperationMadad. Twenty more teams were sent out to various locations today to augment those already deployed. About 200 people were rescued today by air effort alone, while many more were rescued by the boats deployed. Rescued people were also provided food and shelter inside naval base besides the already existing Aluva camp. All the assets (boats) and divers at the disposal of SNC have been committed to this operation and more boats and divers have been requested from other commands.
Twenty seven teams with one Gemini boat each are deployed in Ernakulam district at various places. One team is at Pizhala island, one at Edapally and three at Perumbavur. North Paravur has been augmented with five more teams, taking the total number deployed to seven. Eleven rescue teams are employed at Aluva. Two of these teams were able to rescue 25 police personnel at Opal. Four teams are positioned at Muvattupuzha for rescue efforts urgently required there in light of the Periyar being in spate.
In the Thrissur district, a total of five teams are deployed at Chalakkudy. In Pothanamthitta district, three teams, one each at Ayroor, Pollad and Kozhencherry, are deployed. One team is positioned at Kottayam.
Five naval teams with five Gemini boats which were deployed at different places in Wayanad district are planned to be redeployed in light of the flood situation in that area having improved.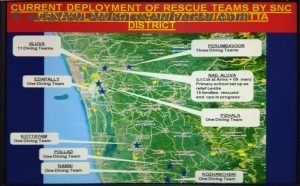 In addition, all air assets available at INS Garuda have been extensively utilised for winching up stranded personnel,transfer of stores, boats, relief material, etc. Air rescue has been carried out at Chalakkudy, Kalady, Aranmula, Bilakamadu and Palliyuda. Three districts namely, Thrissur, Ernakulam and Pathanamthitta were extensively covered by various aircraft including ALH, Sea King, Chetak and MI 17 (of IAF). About 200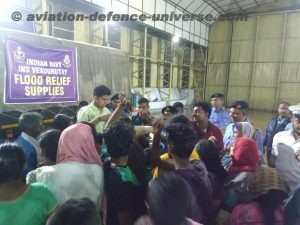 people were rescued today by helicopters. A make shift relief camp has been set up at the T2 Hangar inside the Naval Base and all persons rescued through air effort were provided with food, bedding and other necessities. Based on a request received from District Collector, relief material such as food, candles and some essential items were air dropped to help out approximately 1500 patients stranded at Narayana Institute of Medical Sciences, North Paravur.