Global aerospace major SASMOS is setting up a state-of-the-art electronics manufacturing and LRU assembly facility in Aerospace Park at an investment of Rs 80 crore.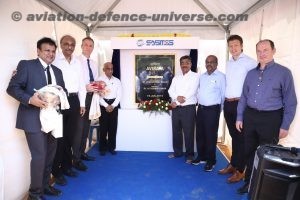 Bangalore. 09 July 2019. SASMOS HET Technologies Limited is all set to set up their second facility in the city. Four acre of land has been allotted by KIADB for SASMOS to set up a sparkling 250,000 sq ft facility in state-run Aerospace Park at Devanahalli near Bengaluru airport. SASMOS has named the new facility appropriately "Avirata", which means continuous growth.
SASMOS Founder and Managing Director H.G. Chandra Shekar met KIADB officials and ministers to discuss the project. This new facility is expected to create about 1500 direct jobs when the set up is commissioned, said the official. SASMOS plans to commence the project in Jun 2019 and complete the first phase by early 2020.
On 19th Jun 2019, SASMOS had an event for ground breaking and the foundation stone was laid by Padmabhushan Dr. A. Sivathanu Pillai and Padmashri Dr. A.S. Kiran Kumar. Dr. Pillai regarded as father of Brahmos, is a distinguished Indian scientist who currently serves as Honorary Distinguished Professor of ISRO. A.S. Kiran Kumar is a renowned Indian space scientist and former chairman of ISRO.
Both distinguished guests after laying the foundation stone addressed the gathering, that included several govt officials, SASMOS global customers and SASMOS leadership team. Dr. Pillai said "I am quite excited with the SASMOS growth story and I have no doubt SASMOS has built international standard capabilities. They have an enviable clientele and that should keep them going for decades to come".
Dr. Kiran said "It has been an exceptional experience for ISRO working with SASMOS" and also said "I believe such customer orientation can take SASMOS to newer heights. This kind of focus on developing new competencies like electronics and new infrastructure well ahead in time is certainly a visionary and strategic for the future".