Indian suppliers are becoming an integral part of Boeing's global supply chain
Showcases readiness for proposed F/A-18 Super Hornet 'Make in India' program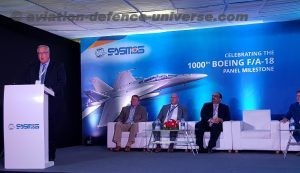 New Delhi. 22 October 2018 . Boeing supplier SASMOS HET Technologies Limited celebrated the delivery of the 1000th F/A-18 Super Hornet electrical panel assembly, on schedule. SASMOS manufactures critical electrical panels for the F/A-18 Super Hornet, one of the most advanced multi role fighters, with advanced survivability and strike fighter capability. The delivery marks a significant milestone in the Make in India initiative and underscores the importance of Indian manufacturers in building the future of aerospace and defense globally.
This delivery is not just an important milestone for SASMOS, but also for Boeing and the Indian industry," said Karl Jeppesen, vice president, Boeing Defense, Space & Security Supply Chain. "As Boeing continues to move forward, these are the types of exciting advancements that will enable the Indian aerospace industry to become the economic growth engine defined by Make in India."
SASMOS first started work on F/A-18 in 2016 and has successfully delivered 1,000 panels in two years. The manufacturer also produces mission-critical equipment and cockpit panel assemblies for Boeing's F-15 and F/A-18 fighter aircraft, and has delivered more than 3,000 F-15 panels already.
"We have achieved a significant milestone in this journey with Boeing that we started three years ago," said Chandra Shekar, Founder and Managing Director, SASMOS. "We certainly thank Boeing for its support and their commitment. This has been a time of acceleration and learning for us and we are ready to grow with Boeing's India initiative."
"Our partnership with SASMOS and this delivery demonstrates yet again, that Indian suppliers are becoming an integral part of Boeing's global supply chain," said Pratyush Kumar, President, Boeing India. "Through suppliers like SASMOS, Boeing has already created a significant supplier footprint in India that can successfully execute the proposed F/A-18 Super Hornet Make in India program."
The combat-proven F/A-18 Super Hornet delivers cutting-edge, next-generation multi-role strike fighter capability, outdistancing current and emerging threats well into the future. Boeing recently announced a Make in India plan for the Super Hornet that features a Public Private Partnership with Mahindra Defence Services and Hindustan Aeronautics Limited.
Boeing has been working with suppliers in India for over two decades in manufacturing, IT and engineering services. Today, there are more than 160 suppliers providing advanced, complex components and subassemblies for Boeing commercial and defense aircraft as part of an integrated global supply chain. These parts and assemblies cover critical components such as aerostructures, wire harnesses, composites, forgings, avionics mission systems and ground support equipment for aircraft that include the 777, 787, P-8, F/A-18 Super Hornet, F-15 and H-47 Chinook.