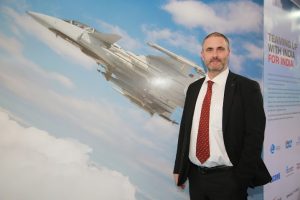 By Sangeeta Saxena
New Delhi. 16 May, 2016. "We want to be in India, for India and with India for modernisation of its defence forces , systems for safe air and maritime environment along with a secure homeland. We are here to stay and have made a long-term commitment to India. Teaming up with India is out aim and to succeed we ensure to be a part of the complete ecosystem of planning, manufacturing and maintaining our offerings to India," said country head and chairman, Saab India Technology Pvt Ltd, Jan Widerstrom, in an exclusive interview with Aviation & Defence Universe(ADU).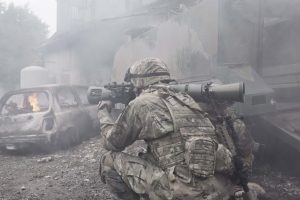 And the year is a one of celebration for SAAB in India. It is celebrating forty years of the strong relationship . Since 1976, FFV Ordnance and the Ordnance Factory Board have been cooperating for the production of the various Carl Gustaf weapon systems and its family of ammunition. " We are looking forward to strengthen this old cooperation.  We showcase our new Carl-Gustaf M4 which will be a perfect solution for the Indian Army. With this system the soldier will have a lot of choices and much more accuracy and precision when needed," he added.
Experts have opined that the system is compatible with future battlefield technology developments, such as intelligent sighting systems and programmable ammunition. This is unique and something that would definitely increase the army's capability on the battlefield.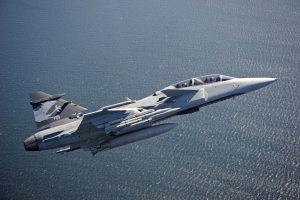 But what attracts the most is SAAB's never say die attitude. Despite of not having made it to the finals of the MMRCA competition, Saab has been continuously offering it to the Indian government and the fact that the government of India has scrapped the MMRCA programme, The Swedish major feels that there is a void which Gripen can fill. " With  Grippen we are on a good wicket and have a perfect match with the product. We are willing to do it within the Make in India framework. We have offered to manufacture our fifth generation Gripen fighter aircraft with technology transfer to India. I want our company to be Indian, and in the right environment, we will be Indian. We really appreciate the Indian government's effort in making the business environment more compatible. Raising the FDI limit to 49% was a good step and the new DPP is also promising," he added.
Saab is also keen to partner in developing the next version of indigenous Light Combat Aircraft Tejas and the Advanced Medium Combat Aircraft (AMCA), being developed and designed by Aeronautical Development Agency.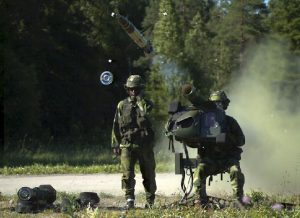 After years of evaluation the news is that Indian Army is all set to award the tender for VSHORAD systems valued at around $ 1 billion. Saab, has offered the RBS 70 NG for the tender which was for an initial order estimated to be worth INR 27,000 crore (USD 5.4 billion) for over 800 launchers and over 5,000 missiles. " We are very hopeful and it will be a single largest order for SAAB if we get it. The army has completed an extensive battery of field trails and a report is being finalised, as far as we know. So we are hopeful of an announcement soon and are keeping our fingers crossed," Jan said.
Optimistic of its tie-up with the Kalyani Group in February this year, Jan said, "we announced plans for a joint venture company In India together with Kalyani Strategic Systems Ltd (KSSL), which is the defence arm of the Kalyani Group. This collaboration will handle the main part of production and delivery of air defence systems for the VSHORAD and SRSAM programmes to the Indian customer, once orders are confirmed. The production in India will comprise subsystems and systems for SRSAM and VSHORAD with the aim to transfer production as well as development knowledge to India."
But SAAB in India does not end with its prime offerings. It has a plethora of activities some not much talked about but extremely important. One is the Kockums super structures work being done for Garden Reach Shipbuilders & Engineers (GRSE)  under production P28 Corvettes. The Navy is building two Anti-Submarine Warfare Corvettes using carbon fiber composite material from Sweden for the first time as it goes beyond using steel for warships. Divided into smaller blocks, parts of the composite superstructure came from the Swedish shipyard and were assembled and integrated with the main hull under supervision of Swedish experts in Kolkata.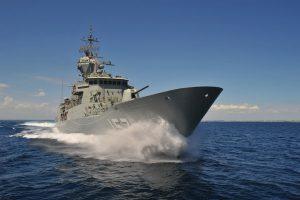 "Warships are traditionally made using stainless steel but the new carbon fiber composite superstructure, imported from Swedish shipyard Kockums, not only makes the warship lighter but also makes it difficult for the enemy to spot. These are the first ships where such a technology is being used in India, " informed Jan.
Stealth is the most important feature of composite material as it is less susceptible to detection unlike steel. The ship's superstructure is made of composite material while the remaining part including hull uses steel.
"We are also looking at the prospects and plans of the Indian Navy both from upgrade and new production point of view. We will be able to fulfil Indian Navy's requirement of Radars , Missile systems, Combat Management Systems, Electronic Warfare, Camouflage and many other. We have been in continuous talks to identify what we could do for the Navy's modernisation," he said.
A very less known fact is that Saab Barracuda has had a significant presence in India over the years and through its Indian subsidiary, Barracuda Camouflage (P) Limited, located in Gurgaon, has equipped different strategic defence programs with Saab Barracuda multi-spectral camouflage nets and Mobile Camouflage Systems (MCS) for many years.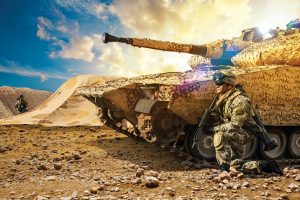 "The solutions provided by Barracuda suits the Indian Armed Forces very well and through advanced camouflage, forces can remain undetected for longer, enabling them to prevent or delay engagement with the enemy and significantly improve their survivability and operational capability. Indian army recognises Barracuda characteristics for effective camouflage in battlefield deployment. The induction program for Multi-Spectral Camouflage Nets into the Indian Army has  taken off. This may run for five to six years to replace old jute nets & thereby provide much needed camouflage protection to various high value assets. Barracuda sees a large potential for MCS & synthetic nets not only with the Indian Army but with Indian Air Force also, " informed Jan.
"Barracuda is also all set to meet `Make in India' objectives. Investments are lined up & projections for indicated volumes justifies Barracuda's thrust to be a supply hub for Indian Armed Forces with a local manufacturing facility at par with the best in the world, which already exists in Gurgaon. Barracuda is the biggest global supplier for camouflage," he added.
To quote SAAB's dictum – it is true no one  can remote build anything. Not only does one have to be close to the customer, one also has to build a network of research and development, engineers and supply chain.
"We have done this in many countries. We have transferred genuine technology in many countries and we will do it in India too. Saab has made a long-term commitment to India, and plans to team up with Indian companies on major programmes to 'Make in India' and also in Research & Development . We are continuously exploring new opportunities for long-term industrial cooperation with both the public and private sector players in India. Also our technology leadership and India's abundance of skilled manpower could make the just right combination for Indian defence forces needs," felt Widerstorm.