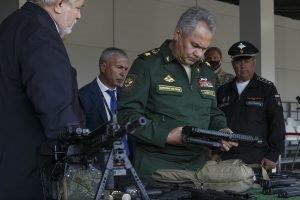 Moscow. 29 August 2021. Minister of Defence of the Russian Federation, General of the Army Sergei Shoigu, following a visit to the exposition of the Kalashnikov concern on the territory of the Patriot park, instructed to accelerate the state tests of promising small arms and protective equipment for the pilots of the Aerospace Forces.

The chief designer of the Kalashnikov concern, Sergei Urzhumtsev, presented the Russian Defence Minister with advanced technical solutions in the development of a wearable emergency stock system for the flight personnel of the Russian Aerospace Forces. The system includes a compact Lebedev pistol, a vest with a set of defensive grenades. PPK-20 submachine gun for pilots, equipped with a low-noise firing device and a new folding stock, was presented. Weapon weighing 3 kg are fed by magazines for 30 rounds. There were also presented a new sniper semi-automatic rifle and the latest hand-held rocket launcher with 40 mm ammunition.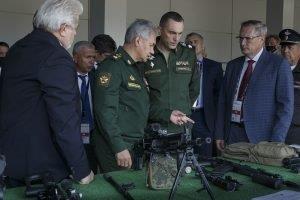 After reviewing the weapon and listening to the report of the chief designer on the prospects for putting new combat equipment into operation, the head of the Russian military department ordered to complete the state tests not in 2023, but in the next year. At the same time, the minister approved new weapons developments.

The head of the military department was also shown sets of the latest body armor. The developers of protective equipment reported that they had fulfilled the instructions of the Minister of Defence to improve its ergonomics without reducing the protective area and characteristics. Bullet-proof vests, possessing a sufficient area of bulletproof protection, do not interfere with mobility on the battlefield. The equipment is quickly adjusted to the parameters of the person, while the main weight load of the vest is distributed to the belt, and not to the shoulders.