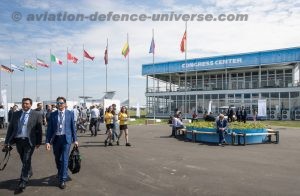 Moscow. 20 October 2020. Aviasalon JSC, the organizer of International Aviation and Space Salon, has opened online registration for participants of MAKS 2021 at official website: aviasalon.com. You can apply for Salon participation and create your online account .
"International Aviation and Space Salon MAKS is one of the world's leading aerospace exhibitions, which high status is supported by the active involvement of the largest national and foreign companies", said the General Director of Aviasalon JSC, Alexander Levin, "As an organizer of Salon, we create the most comfortable conditions for the exhibitors at all stages: from online registration to direct site performance."
Exhibition 2021 will attract the participants who represent traditional MAKS areas: research activities, development and production of aircrafts and spacecrafts, systems and assemblies, materials and technologies used in the aerospace industry. Unmanned aerial vehicles, regional aerospace clusters ("Russian aviation regions"), development of workforce capacity, scientific and technological activities of young people (Future Hub) will be represented as part of special sections. Digitalization projects in the aerospace industry, introduction of automated training systems are among the new exhibition areas.
"We constantly attract and engage MAKS participants since the end of previous exhibition", said the Head of the Exhibition Program Organization Service at Aviasalon JSC, Vitaly Stupitsky, "We perform active marketing, use remote communications and launch online services in response to the difficulties in cooperating with exhibitors, which arise in 2020 amid COVID-19 pandemic. I am sure that it will not only help us to preserve the traditional exhibitors, but also to attract new companies."