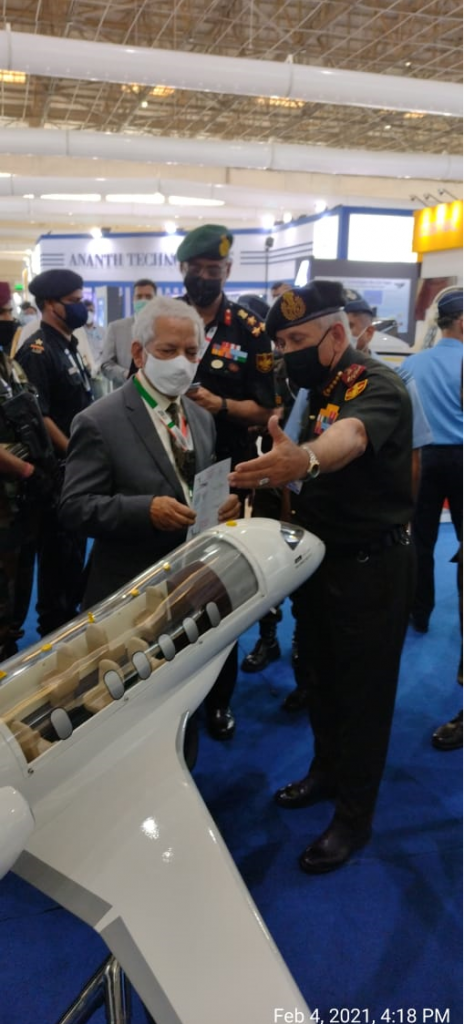 Make in India in aviation a reality
"Our target market size for Rajas is about 1200 aircraft over 15 years: 600 for domestic market and equal number for export. (which amounts to 50% of Indian market share plus 2.7% global market for Light jets)," stated Arunakar Mishra, MD & CEO, Genser Aerospace & Information Technologies Pvt. Ltd. In an exclusive interview to Aviation & Defence Universe (ADU) on the eve of IDEX 2021.
ADU. Rajas is being developed and designed by you but will it also be manufactured by you?
AM. Initial Prototype Manufacturing is being done by Genser Aerospace through extended enterprise organisation exclusively created for the purpose. The name of the organisation is Angas Aeronautics India Private Limited.
ADU. If so where have you decided to establish a Final Assembly Line and from where do you plan to get the expert manpower?
AM. Final Assembly Line has to be adjacent to a not-so-busy airstrip. The prototype is planned to be assembled initially at Taneja Aerospace & Aviation Limited (TAAL) in Hosur. For the Series production, many options have been studied. TAAL facility, Mysore Airport, Salem Airport , Puttaparthi airport, HAL Kanpur and some more places that satisfy the criteria of suitability for Final Assembly plant . The selection of the main manufacturing location shall be decided based on investors' preferences. Other locations may also be used as supplementary locations. The programme volume may demand more than one production/MRO locations.
ADU. For creating a skilled workforce have you planned skill development programmes and if so who will your training providers be?
AM. Expert Panel with decades of experience is guiding the engineering and production team and will continue to do so as the team grows. Skilled workforce shall be taken from progressively maturing and growing supply chain across India; further skilling shall be done by Genser/Angas
ADU. At the moment what are your timelines for all the steps till FOC?
AM. We are planning 3 Prototypes and flying of first Prototype to commence in second half of 2022 and submission of compliance documents for certification by end of 2022.The earliest FOC and EIS ( Entry into Service) are expected to be by Mid 2023,unless hindered by delays in investments expected into the project and pace of certification process.
ADU. Do you plan both civil and military versions?
AM. Yes, mainly civil but also non-combat version for defence. Rajas-Rakshan version has been planned for defence applications
ADU. Are you in talks with customers for both the versions?
AM. Yes, initial talks
ADU. What is the percentage of indigenous content in the aircraft?
AM. Initially about 55 % growing to 70 % or more over a period.
ADU. What is your supply chain and how do you manage it?
AM. Genser has developed a robust extended enterprise network and creates product specific networks as required. It is managed by Genser Team.
ADU. Rajas will fall in which category and which are its existing rival aircraft?
AM. Rajas falls under FAR 23 Light Business Jet Category. Domestically Rajas ( 7 seat , faster, higher, longer range , turbofan) complements Indian programmes like SARAS (19 seat, medium speed/altitude/range, turboprop ) and NM5 (5 seat, short range, piston engine). Within Asia, there are no similar programmes. Globally, there are many rival aircrafts mostly from North America ( Models of Cessna, HondaJet) and from Embraer in Brazil( Phenom 100 and Phenom 300).There is a slightly bigger business jet from Pilatus , Switzerland ( PC-24). Then there are larger business jets from Embraer( Brazil),Dassault( France),Bombardier(Canada) in heavier and upmarket category.
ADU. What have you priced each aircraft at?
AM. ~$3.49 million
ADU. Please elaborate your marketing plans for both national and international market?
AM . While the core product is a standard 2+7 seat RAJAS , all versions/variations in the product, associated services of customising, special equipping, MRO, doing subcontract assemblies to mitigate risks during lean order-book period etc, are all part of saleable product. The target market is India, neighbouring region and the world. Our target market size is about 1200 aircraft over 15 years: 600 for domestic market and equal number for export. (which amounts to 50% of Indian market share plus 2.7% global market for Light jets).
The market for this type of aircrafts are for State and Central Governments, Defence Forces, Corporations, HNI's ,Hotels, Business Jet Flight flying consolidators etc. A multi-pronged detailed Market Entry strategy being put in place include: Reaching out to about 200 airports/airstrips ( out of 400 in India); potential customers in the vicinity and targeting on an average 3 aircrafts per airport ( 1 to 5), Charter/time share operators, Central and Sate Government – Aviation Departments, Public sectors and large/medium private sectors, Large estate owners and large tourism infrastructure owners over 100 five-star hotels, hotel chains and resorts in India and neighbouring countries.
Dedicated efforts to get supporting infrastructure in place – FBOs, Pilots, maintenance engineers/technicians, availability of fuel etc. For rest of the world ( Global Market)Reaching out through General Aviation MRO companies( in Asia, Australia,Mid East,Africa, Europe, North & South Americas) that can also support the aircraft. Particularly target countries which do not have their own light jet programme, but have strong aviation base ( Australia, Japan, Malaysia, Singapore, Russia, South Korea, South Africa).