Tokyo. 15 November 2019. Over 27 years ago, GSCI Advanced Photonics designed its first night vision device to aid professional users in their low light missions.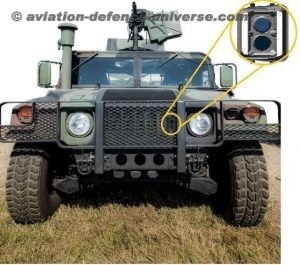 Since then, GSCI engineers have kept innovating. And today, GSCI Advanced Photonics' night vision, thermal imaging, and fusion thermal devices are some of the most distinctive on the market, offering end users an expanded feature set and higher reliability than any other on the market.
Drawing attention to the latest development – QUADRO-VS, a system using GSCI's renowned patented fusion technology, designed for professional end-users Worldwide, who need 100% detection and recognition capabilities at all times. The device consists of a cross-platform mobile fusion system for ground vehicles, unmanned aircraft, guard towers and other applications where safety is at stake and uncompromised detection is a must.
"GSCI has taken a few extra steps in the fusion technology development with the QUADRO-VS", said Isaac B., M.Sc., one of GSCI's Engineers "The device allows disengaging vehicle headlights, to avoid unwanted attention and to reduce the risk of exposure, yet maintaining the user's ability to safely operate the said vehicle, with the QUADRO-VS's ability to detect and recognize objects and/or people with real-time and delay-free transmission of the fused image".
The unit is ruggedly built, light-weight at less than 350 grams, and offers easy installation and both vertical and horizontal positions, it is also equipped with several unparalleled features:
Five Operation Modes: Thermal, Day, Night, Day-Fusion, and Night-Fusion for a variety of lighting and environmental conditions;
Super wide Field of View offering excellent Situation Awareness;
An Anti-Ambush Aid for Hostile Environments – helping users to neutralize possible threats in advance – with the wide Field Of View, only 7 QUADRO-VS systems installed around a perimeter create panoramic 360° view, allowing true, real time continuous perimeter observation and detection for tactical purposes.
Remote In-Vehicle Operation; and
A Fully-Passive Undetectable System – does not emit any light, heat, laser or any other type of radiation.
GSCI Advanced Photonics is an ITAR-free leading developer and manufacturer of high-end professional electro-optical systems, and its patented fusion technology is already considered a top-tier within the industry. As with all other systems, QUADRO-VS is backed by a 7 year warranty.