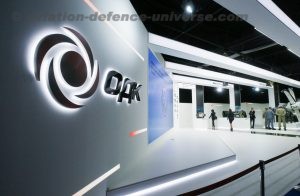 Moscow. 27 November 2020. The latest aircraft engines developed by the United Engine Corporation (UEC) will be demonstrated for the first time at the Fifteenth International Aviation and Space Salon where airliners MS-21-310, Il-114-300 and Il-112V will be presented.
The UEC was one of the first companies registered as a participant of MAKS-2021 by booking an exhibition space. "The participation in the International Aviation and Space Salon will give professional community a chance to present a current product range of aircraft engines and our advanced developments," said the General Designer of the UEC, Yury Shmotin.
It is expected that the full-scale showpieces, which will be demonstrated for the first time at MAKS-2021, will include medium-haul passenger aircraft MS-21-310 with engines PD-14, regional turboprop aircraft Il-114-300 with engines TV7-117ST-01, and military aircraft Il-112V with engines TV7-117ST.
Moreover, the United Engine Corporation implements a range of promising projects, including the development of a line of heavy-duty engines PD-35, a line of PD-8 engines, helicopter engines VK-1600V and VK-650V, engines for combat planes, industrial and offshore units. The information about these and other projects, full-scale specimens and engine mock-ups will be presented as part of the static exposition in pavilion C2.
Apart from the exhibition program, the UEC plans to actively participate in the salon's business program. "For us, MAKS is the most important platform to establish business cooperation. Traditionally, multiple negotiations with the Russian and foreign partners are held during the salon," emphasized Yu. Shmotin, "The UEC intends to carry out a number of presentations. A heavy business program is being developed, which involves the participation of the experts from the United Engine Corporation in the congress meetings which will be held as part of the salon."
The UEC is a permanent member of International Aviation and Space Salons. Management Company "United Engine Corporation" LLC was registered on November 22, 2007, and presented its products at MAKS-2009 as part of a single exhibition. "Over the past years, a good tradition has developed. The UEC demonstrates its newest engines, which largely determine the level of Russian civil and military aviation. The corporation's stand is a place which draws the attention of experts and a place where presentations and negotiations are held," said the Deputy Director General of Aviasalon JSC, Nikolay Zanegin.