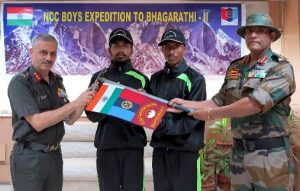 New Delhi. 27 August 2016. The NCC Boys Mountaineering Expedition to Mount Bhagirathi II was flagged off by Director General National Cadet Corps (NCC) Lt Gen A Chakravarty here today. The team led by Col SS Phogat and twenty cadets will attempt to summit Mount Bhagirathi II at a height of 6512M between 19 and 21 Sep 2016.
Mount Bhagirathi located in the Garhwal region is technically a very challenging peak and requires all mountaineering skills and expertise for a successful attempt. The team has done meticulous planning and have trained well, to achieve the same.
The team consists of Col SS Phogat, Expedition Leader, Lt Col Arunbir Singh, Deputy Leader, Capt Suhail Khan,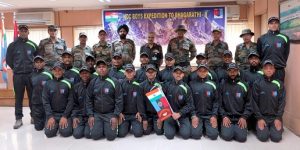 Medical Officer and 20 NCC cadets. The cadets have done basic mountaineering course and represent some of the best climbers in the seventeen State Directorates of NCC.
The Director General complimented the cadets for having honed their mountaineering skills in the past few months and expected them to put their best foot forward in summiting Mt Bhagirathi.