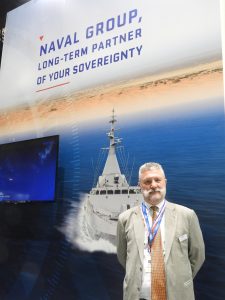 François Dupont, Director of the International Trade department Naval Group in an exclusive interview with ADU. (Transcribed Video)
"Good afternoon, my name is François Dupont, I am the commercial director of Naval Group. Naval Group is the world leader in naval construction and integration and one of the world leaders also enable construction and integration.
We are present in IDEX because IDEX is one of the greatest defence shows in the world and of the region. It's a great opportunity for us to be able to meet customers and potential customers, prospects. The crux of our presentation in IDEX is the Gowind Corvette, which is a successful ship and we've sold it to Egypt and Malaysia.
We are currently building it either in France or through transfer of technology with large partnerships, networks that we are trying or develop in every single country, the prime focus of the Corvette is, of course defence but also protection of ceilings, protection of economic interest then anti parasitic, she's been especially designed for that and she encompasses all the most modern technologies for the 21st century."