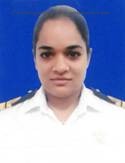 New Delhi. 14 August 2018. Lt Aishwarya Bodapatti volunteered for Indian Navy's expedition, Navika Sagar Parikrama – an all women circumnavigation of the globe under sails on INSV Tarini.  This expedition was unique as it was the maiden attempt by an all women naval officers crew to sail around the globe in a yacht covering a distance of nearly 22,300 nautical miles (41,255 Km). Since, this is the first ever Indian circumnavigation of the globe by an all-women crew it highlights women empowerment to the rest of the world and has set an example for other Indian women to emulate. Prior to setting sail on their global mission, the officer mapped Indian Ocean and South Atlantic Oceans by sail, as part of her training for the arduous expedition. The officer had a minimum of 20,000 nautical miles of sailing experience to qualify for the challenge.
The expedition commenced on 10 Sep 17 from Goa and was completed on 21 May 18 at Goa. Thus, the officer, as part of the expedition spent more than 06 months (194 days) at sea and nearly 08 months away from home port. Such prolonged duration at sea in inhospitable conditions requires courage, determination and a never-say-die attitude. Also, the officer sailed through a number of oceans and seas, some of which are known to be constantly perilous because of prevailing rough weather and sea conditions. The officer encountered rough seas on number of occasions with wave height reaching up to 10 meters. The strong wind conditions (60 to 65 knots) in sea conditions like Sea State 6 presented a constant threat of capsizing to the boat and crew. Prolonged exposure to such weather conditions is very demanding and it is only through high standard of mental and physical fitness that the officer could endure such conditions.
The officer had to undertake multiple tasks in addition to sailing which included activities like navigation, repair of machinery as well as sailing gear, cooking, watch keeping and steering the boat etc. All these tasks, when undertaken during hazardous weather conditions are very challenging and demand physical strength, professional competence, resilience and will of very high order. Tremendous grit and determination is required to overcome these challenges which are both psychological and physical. The physical exhaustion is further accentuated due to lack of sound sleep attributed to turbulent sea conditions and restricted living spaces.  This is the first time in the country that an all women team has raised the bars of extreme adventure by setting sail around the world on a 56 feet sailing boat displaying raw courage, endurance and professionalism.
The officer has successfully accomplished all the objectives of a global circumnavigation and achieved a historic landmark for Indian women.  In view of her unique achievement and courage Lt Aishwarya Bodapatti (43151-N), crew of Indian Naval Sailing Vessel Tarini is therefore strongly recommended for the award of Nao Sena Medal (Gallantry).