All set to return after circumnavigation of the globe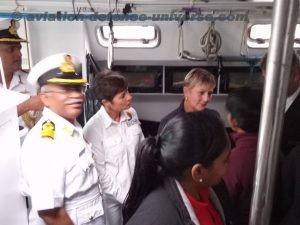 New Delhi. 14 March 2018. Indian Naval Sailing Vessel (INSV) Tarini left Cape Town for the final leg of circumnavigation passage to Goa. The yacht was flagged off by Ruchira Kamboj, High Commissioner of India to the Republic of South Africa, Abhishek Shukla, Counsel General of India in Cape Town, South Africa & Auroux Marais, Minister of Cultural Affairs & Sports, Western Cape Government, members of Indian diaspora and South African Sailing Association.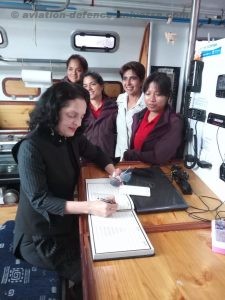 INSV Tarini had arrived at Cape Town on 02 March 18 after completion of fourth leg of her maiden voyage to circumnavigate the globe. This historic circumnavigation attempt by an all-women crew is being led by Lieutenant Commander Vartika Joshi, and the crew comprises Lieutenant Commanders Pratibha Jamwal, P Swathi, and Lieutenants S Vijaya Devi, B Aishwarya and Payal Gupta.
The crew had several engagements during their stay at Cape Town, including a formal call-on Ruchika Kamboj, High Commissioner of India, Patrica De Lille, Mayor of Cape Town and Helen Zille, Premier of Western Cape. A photo exhibition event and press interaction was also organised. The crew were also 'On Air' during the Radio Talkshow with famous RJ Pippa Hudson.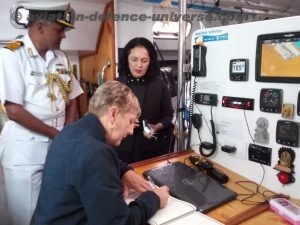 As part of their stay in harbour, Team Tarini interacted with students from University of Western Cape, St. Paul's Primary School and Lawhill Maritime Academy. INSV Tarini crew had an opportunity to interact with a wide range of stakeholders during the welcome reception hosted by the High Commissioner, which was attended by numerous distinguished guests, including state officials, businessmen, academicians, leaders from Indian community and media persons.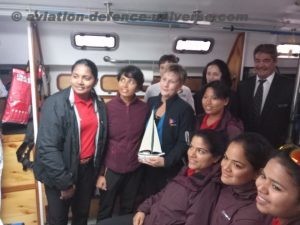 Several outstanding sportspersons and local populace also visited the vessel while she was open for onboard visits. The Skipper Lieutenant Commander Vartika Joshi along with crew gave a talk and presentation at the Royal Cape Yacht Club and Maritime Academy. The crew also interacted with sailing community of Western Cape.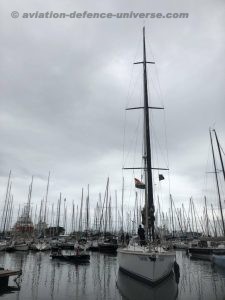 The visit of INSV Tarini to Cape Town was covered widely in the International social media and print and electronic media. The final port of call is scheduled at Goa in end Apr 18.