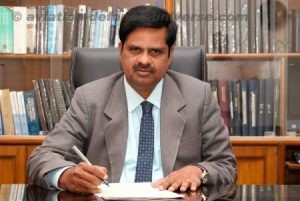 New Delhi. 19 August 2021. "Aerospace, Defence and telecom sectors are truly international in nature and hence, students trained through our courses can serve in the global and in the Indian market. The online component of these courses and flexibility in attending the classes online, has brought education to their doorsteps," stated Prof. Dr. V. Balakista Reddy, NALSAR in an exclusive interview to Aviation & Defence Universe(ADU).
ADU. Could you tell us briefly about the University and the Centre for Aerospace and Defence Laws (CADL) initiative?
Dr.VBR. NALSAR University of Law, Hyderabad, is a government institution of national eminence in the field of legal education and research, is a residential University established in 1998 under the National Academy of Legal Studies and Research University Act (Act 34 of 1998). NALSAR University of Law is approved by the Bar Council of India & University Grants Commission. It has been graded as Category-I University by the UGC under the Categorization of Universities (only) for Grant of Graded Autonomy Regulations, 2018. NALSAR has been accredited by NAAC with 'A' grade (A+ as per new grading system) with 3.60 CGPA out of 4.00 which is the highest score among all the National Law Schools evaluated till date.
NALSAR is consistently ranked as one of the top Law Universities in India and has always endeavoured to promote quality research in contemporary legal issues. One of the contemporary but neglected areas in the Indian legal realm is Air and Space laws. To fill this gap and to promote further studies and research in the aerospace law, the University established the Centre for Air and Space Law (CASL) in 2005. Since then, NALSAR-CASL has evolved inarguably a leader in promoting the study of and training in the specialized fields of Air and Space Law. Recently the Centre has been upgraded as the Centre for Aerospace and Defence Laws (CADL), owing to the private participation and increasing demand for legal requirements in Defence and Security Sectors.
ADU. What is the aim of the Centre for Aerospace and Defence Laws (CADL)?
Dr.VBR. The Centre for Aerospace and Defence Laws (CADL) aims to contribute to the growth of Aerospace, Defence and Maritime Laws both domestically and internationally by extending the frontiers in these laws. We aim to achieve this by promoting research and development in the Aviation, space, Defence and Maritime laws and also provide legal education in the said areas of study.
We also undertake policy research, do consultancy services in Aerospace, Defence and Maritime sectors from governments and also private bodies, conduct research and publish the work in the form of newsletters, books, Journals etc,.
ADU. What is the professional and academic profile of students who come to do the courses at your centre?
Dr.VBR. One of the objectives of our Centre is to provide legal education in Aviation, Space and Defence Laws. In furtherance of this objective, we offer online-onsite-distance mode Master's and Advanced Diploma courses in Aviation Law and Air Transport management, Security and Defence Laws, Space and Telecommunication Laws, Maritime Law, GIS and Remote Sensing laws.
These courses are designed for working professionals and fresh graduates alike. Most of our students are from the aviation, Space, defence and Maritime Industry. We have students working in DGCA, Airports Authority of India, pilots, ground crew, Persons involved in Aircraft maintenance, Defence personnels, Para military personnels, port officers, People from Indian Space Research Organisation, Antrix Corporation, Advocates, Researchers, Engineers, MBA degree holders and so on. Our students are from a variety professions and educational backgrounds.
All the syllabus of our courses are tailor-made to accommodate a variety of background students.
ADU. Have you decided on ties up with the defence forces and para military forces to promote your courses?
Dr.VBR. Yes, We already have tie-ups with NISA (National Industrial Security Academy) offering joint degree programmes in various Industrial security and Management laws. Further we are in the process of collaborating with other Defence and paramilitary agencies.
ADU. Dr.VBR. Is there a plan to promote your courses with the various institutions under Ministry of Civil Aviation?
Dr.VBR. As you know, there is no doubt that the aviation sector in India has an ever increasing demand for hundreds of aviation lawyers, management professionals and Aeronautical Engineers among other professionals. Hence we intend to have collaborations with various public and private agencies working in the Aviation industry.
ADU. Has the response from ISRO and the Department of Space been good for candidates to attend your course?
Dr. VBR. Yes. We have received a relatively positive response from the ISRO and we further encourage them to join our courses owing to the latest policy reforms and high demand of legally knowledgeable people in the sector.
ADU. Are GIS and Remote Sensing legal needs so strong that it needs a specialising course?
Dr. VBR. GIS and Remote Sensing is part of the space sector which uses satellite technology for civil purposes and society. In this field where mapping and other tools are excessively used and with the advancement of technology more than the legal developments, there is need for robust legal experts and education.
ADU.Is there a campus placement for the courses run under the centre?
Dr. VBR. No, the Centre does not provide any campus placement for the students enrolled under the courses. However, we provide references to the students who require them.
ADU. How will the courses you are launching contribute to the defence and aerospace manufacturing sector and match steps with Skill India and Make in India?
Dr. VBR. These courses are value added courses. Apart from the legal perspectives, these courses also focus on the management and technology perspectives, so as to give the students an overall understanding with the defence and aerospace sector. We enable the students to be skilled and knowledgeable to the requirements and challenges in the various policy developments including Skill India and Make in India.
ADU. Is the faculty earmarked for the courses from the commensurate industry and the defence forces?
Dr. VBR. Yes, the faculty for these courses are specifically from the defence and aerospace industry. It is composed of professionals from the industry, advocates practising in the designated field, professors and teachers having knowledge and degrees in the specified field.
ADU. Will these courses be absolutely online and students from admission to examination do not have to come to the campus at all?
Dr. VBR. The courses are onsite-online. It is not necessary for the students to be present on the campus for the classes, but it is mandatory for the students to have their presence on the campus during the examination. But with the current condition of the nation, the University in this pandemic has been conducting examinations online.
ADU. Finally, can you please inform us about what job opportunities will the students have after completing these courses?
Dr. VBR. India has a vast pool of untapped talent which after requisite training and development can become invaluable to any industry in the world. Students can become leaders in their respective areas of specialization with adequate skill development. Aerospace, Defence and telecom sectors are truly international in nature and hence, students trained through our courses can serve in the global and in the Indian market. The online component of these courses and flexibility in attending the classes online, has brought education to their doorsteps. This will allow the participants to acquire the additional qualification while continuing with their current pursuits. The winds of privatization, commercialization and globalization have brought with themselves legal and managerial challenges and only those who take steps to appropriately train themselves professionally can think about evolving in their employment.
Our courses enable the participants/students to cater to the demands and requirements in the evolving Aerospace and Defence sectors, particularly with the recent government legal and policy initiatives inviting private participation and individuals alike both globally and domestically.
For further details and admission queries,
Write us at ddeadmissions2021@nalsar.ac.in or cadladmissions@nalsar.ac.in
or Visit www.nalsarpro.org or www.cadl.nalsar.ac.in
Prof. (Dr.) V. BALAKISTA REDDY
Professor of International Law & Registrar
Director, Centre for Aerospace and Defence Law (CADL),
Director, Centre for Tribal and Land Rights (CTLR) &
NALSAR University of Law
Office: 040-23498404/ 405/104 Cell: 99486 60916
Email: registrar@nalsar.ac.in, balakista@gmail.com