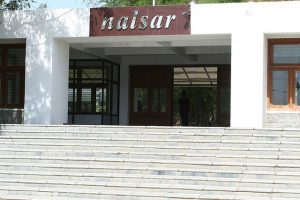 Hyderabad. 23 August 2020. India has rich history in dealing with sea trade as well as a variety of trading and non-trading practices via sea within and beyond the confines of the country. Hence it has built up a magnificent maritime history and traditions for several decades even much before than the rise of European maritime powers. However, it experienced decline while the western and European nations advanced during Industrial Revolution.
At present, among all Asian and African countries, India has one of the largest and considerably well-coordinated merchant shipping fleet with almost ninety percent of the country's trade volume moved by sea. With one of the largest coast line and having boundary as sea/ocean, guarding the country through coast also gains importance.
In short trade and security through the ocean is prominent in India. Hence from past decades we have laws which are governing the trade and security but with change in circumstances, updation and research on emerging areas is required. With the advancement in trade and increase in crimes on seas and natural disasters, there are various issues which need to be addressed. To name few, issues relating to insurance, liability, accidents, pirates etc., are common. With globalization and Technology-trade prominent era, new areas of concerns has emerged, like ship financing, maritime liens, carriage of goods by sea, ownership and registration of ships, ship sales and building contracts, limitation of liability contracts, law of collision, salvage, towage and pilotage and its related claims, law of marine pollution – its consequences and liabilities, customs and port laws are few of them.
That being highlighted in the area of trade related, there are also new issues and emerging areas in security related. With the issues of pirates, laws relating to the rights and ownerships for the resources on the high seas and markings of Exclusive economic Zones, Laws related to the passageways of various varieties/registered ships, trespass of territorial waters, aid by the naval and coast guard forces, Technology used by these forces, rescue operations, access to ports, Laws relating to accidents/attacks on territorial waters, disputes settlement mechanisms for the armed forces, Strategies relating to the security on the seas etc gained prominence and require intense research and analysis of the same.
With the emergence of new areas and concepts in maritime field, the requirement for research and analysis is significant. Knowing of the requirement of legal research and study in this area of Law, NALSAR university of Law had started Centre for Aerospace and Defence Laws (CADL) and is active in research and education relating to the Aviation, Space, Defence, Maritime and GIS and remote sensing laws. To strengthen its objective and to provide subject-specific experts, NALSAR through CADL offers innovative-online-onsite Courses of 3 Masters programmes and 3 Post Graduate Diploma Programmes. Of 6 Programmes, the courses relating to the Maritime are,
M.A. Security and Defence Laws (MSDL)
Post graduate Diploma in Advanced Maritime Laws (PGDAML)
In M.A. Security and Defence Laws, which is for 2 years, we concentrate on the Defence and Security as whole which include Maritime and Security Forces relating to the Seas. The programme is of 2 years and in 4 semesters. The Subjects covered in this course are General Principles of Law, International Security, Diplomacy and Conflict Resolution, Defence Technology and Law, International Institutions and Global Security, Defence Management and Strategic studies, Defence Contracts and Tenders, Defence Procurement Policies, Regional Security, Terrorism and Counter-Terrorism, Aviation, Space, Maritime and Cyber Security Laws.
One year P.G. Diploma in Advanced Maritime Laws, consists of 6 papers stretched in to 2 semesters. The syllabus includes General Principles of Law, International Maritime Laws, Maritime Security, Maritime Laws in India, International Trade and Maritime Transport Services, and Contemporary Issues in Maritime Laws.
All our programmes are meant for the working professionals and fresh graduates alike and these enables the working professional to have the multi-disciplinary view of the topics as it covers the Technology implications, management related concerns, Cyber and Intellectual Property related issues, Security and Trade related concerns along with the introduction to the General principles of Law. This curriculum enables even a non-legal background person to know and understand the legal terminology and legalities easily. This objective is enhanced by our scheme of study, in which contact sessions are held, where each subject is taught in 6 sessions of 2 hours each. This enables the candidate to learn both the technical aspects and the legal aspects. The study material provided is complied with the guidance of subject experts and by experts themselves.
This brings out the uniqueness and credibility of our course which benefit the candidate at large. Our alumni had benefitted from our previous courses and can be seen through their testimonies in our Newsletter.
For more information and details,
visit www.cadl.nalsar.ac.in
email to [email protected]
Follow us on LinkedIn