GVK MIAL secures the runner-up award for the fifth consecutive year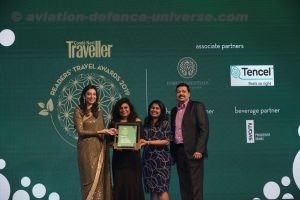 Mumbai, 21 November, 2019: GVK Mumbai International Airport (MIAL) managing the Chhatrapati Shivaji Maharaj International Airport (CSMIA) bagged the runner-up award in the 'Favourite Airport' category at the 9th Edition of 'Conde Nast Traveller Readers' Travel Award for the fifth consecutive year. Hosted by the vivacious Bollywood actress Bhumi Pednekar and held at The ITC Maurya, New Delhi on 19th November, the ceremony saw the attendance of industry leaders, influencers and recognized names from the travel and tourism sector including government bodies.
Keeping up with the international quality standards, Chhatrapati Shivaji Maharaj International Airport is constantly evolving and implementing to new changes to maximize passenger experience. As a passenger centric airport, CSMIA has adapted to revolutionary initiatives like a fully-automated check-in process, generating boarding pass and baggage tag through Common Use Self Service (CUSS) kiosks. In addition, the technologically advanced airport also introduced body scanners, mobile application to shop, explore and order food meals online. It also offers passengers an array of shopping and dining options by Indian and International retail brands for travellers to choose from. The airport has redefined the idea of travel experience for passengers, making Chhatrapati Shivaji Maharaj International Airport the only 'Favourite Airport' in India.
The annual Condé Nast Traveller Readers' Travel Awards has set the benchmarks in the hospitality and travel industry year on year, since its inception in 1989 in the United States of America. Selected by thousands of readers through a survey carried out by Conde Nast Traveller, the award is an acknowledgement of CSMIA's consistent effort to offer seamless experience to its passengers through its state-of-the-art design, structure and world-class facilities. CSMIA continues to efficiently serve millions of passengers and act as an epitome of providing an elevating experience to its travellers.