By Chaitali Bag
Paris. 21 October 2016. For a leading manufacturer of comprehensive ballistic protection solutions – sea rescue, safety of life and of ships at sea, security of infrastructure, maritime and coastal surveillance- are its commitment to protect the men and the ships which protect the waters of the nation and the world.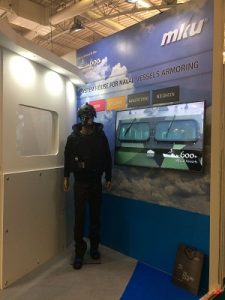 We are referring to MKU the Indian armouring major which has the Indian flag flying high in the bare minimal representation by the indigenous naval industry in this Euronaval.
The Indian armouring major showcased its technology for design, development, manufacturing and integration of armour protection solutions for different Naval systems including ships, frigates, military boats, patrol boats, fast Interceptor crafts, RIBs, Hovercrafts, Crew Boats, OPVs and yachts.
Areas considered for protection by them are Wheel , House Bridge, Engine Room, Command & Information Centers (CIC)Ammunition Storage Compartments, Missile launch Silos and Crew Resting Areas.
It offers a wide range of ballistic protection solutions for naval systems, independently certified as effective against a wide range of current threats from small arms, Handguns, Rifles amongst others.
The company understands the challenge of integrating ballistic protection into all parts of a naval vessel, matching the complex contours of the vessel's shape effectively utilizing all the available space. Such ballistic protection can be integrated during vessel construction or added later, depending upon the customer's requirements and it is fully equipped for either approach.
MKU's light weight armour solutions are of a specified weight and thickness with certain chemical and mechanical properties that are important for the specific applications and in-field requirements for which they are made. These panels supplement the basic hull of the system in order to achieve specified ballistic performance.

It offers armour solutions against almost all prevalent Ammunitions and Threat Standards like fragments from anti-ship missiles, armour piercing rounds from aircraft cannon, heavy machine guns, small arms rounds and explosive blasts.
There is a versatile range of light weight armour technology solutions the company uses. Polyshield, flexar, cerazone, rigar, fragpro, spallin and transarm are some of them.
Some of the success stories of MKU are manufacturing missile silo protection for frigates of the Turkish Navy, superstructure protection for frigates and corvettes of the German, Malaysian and South African Navies, armouring of Saudi Arabian Coast Guard vessels, fast patrol boat and interceptor boat armouring in partnership with shipyards in Europe, India, Malaysia and the Middle East. The list is long and growing.