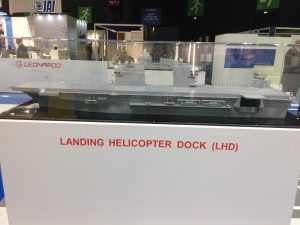 Paris. 23 October 2016.  A new generation of sensors and systems on the bridge of a multi-role naval vessel, attracted a lot of attention at the show which was exhibiting the latest technological developments in the naval field.
Leonardo the erstwhile Finmeccanica  provides comprehensive solutions for naval mission management which integrate many kinds of sensors including radar, electronic systems, weapons, helicopters and manned and unmanned aircraft. It is responsible for the provision and integration of all on-board systems for Italy's new fleet of naval vessels and is developing the ships' combat systems.
The "naval cockpit", which enables the integrated management of ship-board operations with a vessel's combat system, attracted a lot of attention. The new Combat Management System features a modular and reconfigurable open architecture that can be customised depending on the demands of a given mission. At the show, the system was represented by a 'tactical table', demonstrating the ship's command and control centre.
Visitors wereable to experience, through augmented reality, new naval capabilities including a new multi-functional, fixed-face dual-band radar, friend-or-foe detection and infrared sensors for acquiring and tracking targets, integrated communications systems and satellite radio.
The company also exhibited anti-submarine warfare equipment, including the new ATAS sonar (Active Towed Array Sonar). An innovative new system, the ATAS is the smallest and most powerful variable-depth, towed sonar available today.
Also on display were the large-caliber 127/64 LightWeight (LW) naval gun, the world's most advanced in its category, and the over-bridge version of the 76/62 cannon equipped with the Strales kit, able to fire guided DART (Driven Ammunition Reduced Time of Flight) munitions as well as the latest Vulcano ammunition. On-deck, visitors were able to see the AW101 helicopter, a multi-role military aircraft able to perform the full range of naval missions including anti-ship, anti-submarine, search and rescue, radar surveillance, utility and amphibious support.
Through its divisions, Leonardo provides aircraft for maritime patrol (Maritime Patrol Aircraft – MPA), helicopters for surveillance and sea rescue (Search And Rescue – SAR), capabilities to combat surface threats, submarines, unmanned surface vessels and underwater robots, radar and electro-optical systems to assist with the control of coasts and borders, coastal site defence systems, maritime surveillance and scenario analysis systems, command and control systems, and more.
Leonardo also provides satellite systems and services for Earth observation and geo-location, both important for marine environmental monitoring and maritime security.
Leonardo also works with Fincantieri as part of the 'Orizzonte Sistemi Navali' joint venture, in particular for the FREMM programme, and more in general in the naval military sector on the domestic and international market