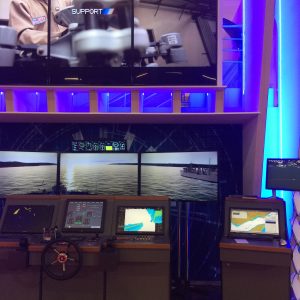 Paris, 18 October 2016. Défense Conseil International (DCI) has concluded  a partnership agreement relating to undersea warfare with  Thales. This agreement will allow the naval branch of DCI and the undersea warfare systems branch of Thales to collaborate in training and services.
DCI Chairman and CEO Jean-Michel Palagos declared: "This association with Thales, the key player in military underwater detection and electronic warfare, represents a huge opportunity to develop the quality of our training for customer countries that wish to expand their competences in these sectors."
Following an initial agreement concluded in 2015 in the airborne electronic warfare sector, Thales and DCI are extending their partnership to the naval sector. This joint strategy allows the two groups to reinforce their training offer and to provide the optimum response to the needs of partner country navies.
Merry Michaux, Vice President for Thales's military aerospace support and services business, added: "The combination of our respective expertise brings our customers real added value in two important sectors for our armed forces. As shown by the previous agreement, the flexibility of our approach represents an effective response to the capacity optimization needs of our customers".
Combining the excellence of the underwater systems developed by Thales with the naval operational expertise of DCI, this global offer is intended for navies who wish to acquire or reinforce their underwater warfare capacity. This partnership covers the full spectrum of underwater activities, including the sale of simulation solutions, technical and operational training, assistance, consultancy and support for navies and users.