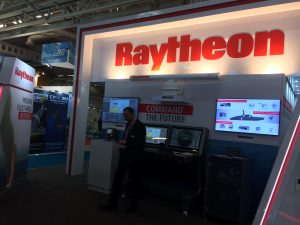 By Chaitali Bag
Paris. 17 October 2016. Raytheon  which is synonymous with missiles sprung a pleasant surprise on every one at the Euronaval with its Synapsis Tactical Command System (SYNTACS). The German bridge system integrator Raytheon Anschütz have enhanced the capabilities of their SYNTACS.  Integration of ballistic modules, weapon computer and additional shipborne surveillance equipment, enabling the system to provide a complete fire control solution, make it the state-of –art naval hi-tech asset.
"SYNTACS is a scalable integrated mission management system solution, which has proven its effectiveness in numerous installations over the past two years, including the HSI32 Interceptor vessels built at French shipyard CMN. With the next level of SYNTACS, customers in the small naval combatant or OPV market will benefit from a cost-effective solution for basic combat management, an optimal fit for their mission needs, " said Raytheon Anschütz' Dr. Thomas Lehmann, segment manager of C2 solutions.
SYNTACS currently combines command and control, advanced situational awareness capabilities as well as navigation features. With the integration of the ballistic modules, SYNTACS offers a seamless turn-key solution for the entire functional chain from surveillance, situation analysis and detection, to engagement and fire control. The system is also fully compliant with IMO standards and type approvals for high-speed operation.
Ballistic modules can be operated on multifunctional workstations simultaneously with other applications, such as tactical navigation on ECDIS. This optimizes utilization of each workplace, and eliminates the need for additional workstation hardware. Most notable for small vessels, SYNTACS offers an easy upgrade of their situational awareness, surveillance, basic combat and self-defense capabilities while taking into account spacial arrangements, ergonomic considerations, and efficient logistics.
SYNTACS is available as a standalone mission management system but also as an integrated IMO-certified solution that combines tactical situation awareness/C2 capability with an integrated navigation system (INS). SYNTACS offers the operator a complete tactical overview of the ship's surroundings. Through data correlation of all organic and external sensor information, SYNTACS provides a comprehensive dashboard for the operating picture on the bridge multifunctional workstations – in addition to navigational capabilities. SYNTACS can thereby integrate different sensors and weapon systems appropriate for different missions.
Some benefits of the system are significantly enhanced situational awareness and common operating picture (COP), additional situational awareness and self-defense capabilities on the bridge, even if a dedicated Combat Management System (CMS) is  aboard, various scalable extension options to adapt to different mission and individual requirements and is a highly affordable system with low lifecycle cost (built on COTS technology), as per the company.