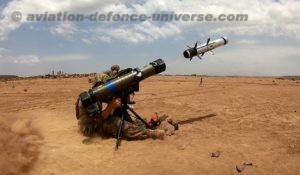 New Delhi. 12 January 2019. In the era of no-war and no-peace any and every nation needs to have the state-of-the-art defensive and offensive power with borders being volatile and neighbours not always being friendly. This makes missiles most required and the latest generation an absolute necessity. The soldier on foot needs to be well equipped for safety.
Missile Moyenne Portée (Medium-Range Missile) is a French man-portable anti-tank guided missile was developed by MBDA Missile Systems and is intended as a replacement for their MILAN, which has been sold worldwide.
Members of 15 foreign delegations, as well as representatives of the European Defence Agency (EDA) and NATO have been given the opportunity to witness the full range of capabilities of MBDA's 5th generation MMP (Missile Moyenne Portée) ground combat missile during a live firing demonstration.
The demonstration – organised a couple of months back, at the Canjuers base in the presence of the French Army and the Direction Générale de l'Armement (DGA) – took place in two phases: a dynamic phase, in which representatives from around the world watched three firings conducted by the French Army Technical Section (STAT), and a static phase, based on presentations and workshops making use of standard operational equipment for simulations, training and support.
MBDA is the product of the co-operation of the missile industries of five European nations working together to develop their capabilities, and so it is uniquely able to cooperate with India and understand its needs and desires for developing its industry.
The missile and its guidance system offer three different operating modes like
Fire-and-Forget
Man In The Loop with fibre optic data-link
Lock-on after launch (LOAL) for non-line-of-sight (NLOS) and using third party target designation.
Despite these new features, it was still to remain effective against modern AFV and MBT armour. A tandem warhead is used, making it effective against conventional, composite and reactive armour. Upon detonation, the warhead also sprays 1,500 tungsten splinters, effective against personnel out to 15 meter
The three firings – all of which struck their targets precisely – showcased the missile's various operating modes by confronting it with different scenarios, against both fixed and mobile targets at ranges of 2.5 km to over 4 km, proving the accuracy of the MMP in all circumstances, even when fired at hidden targets beyond line of sight. The demonstration, which included firings with the seeker locking on to the target both before and after launch, and using both infrared and TV guidance, also highlighted the MMP's 'fire and forget' and 'operator in the loop' capabilities.
Its ability to engage targets beyond direct line of sight by means of a network-centric enabled tablet computer, or via images relayed by micro-UAVs, was also demonstrated, illustrating how the MMP operates in symbiosis with coordination systems and field sensors. The delegations also discovered different configurations of the MMP: a standard firing post fixed on an Arquus SHERPA Special Forces light combat vehicle; with an Impact remote-controlled turret mounted on an Arquus SHERPA armoured vehicle; and with a T40 gun turret mounted on a Nexter VBCI infantry fighting vehicle.
This demonstration followed on from September's hot weather campaign carried out by the French Army in Djibouti, which validated the MMP's suitability for use in a desert environment and secured the green light for its deployment in support of the Operation Barkhane in the Sahel-Saharan Strip.
In France, the MMP programme includes provision of 400 firing posts and 1,950 missiles across all branches of the French Armed Forces by 2025.
India is one country which has all terrains and hence such a missile in its land forces inventory is the need of the hour. Given this, it is no surprise it has a long history of active partnership with Indian industry, which is evident through our successful track record in Indian manufacturing. MBDA is keen to continue this proud history and in supporting the Make in India initiative, as evidenced by initiatives like the JV with L&T. The European missile major sees continued partnership with India as entirely positive for its long relationship with India.