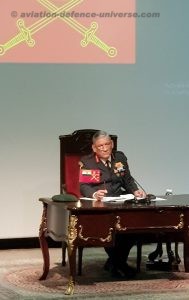 Hard & soft approaches for terrorists
All peaceful on the two fronts
By Sangeeta Saxena & Brig. VK Atray
New Delhi. 10 January 2019. In a run up to the Indian Army Day the Army Chief General Bipin Rawat held his longest ever press conference and answered questions on virtually any and every topic thrown by the journalists. "Pakistan's status after change of government at Islamabad is the same as before. They talk of peace but we don't see it on the LOC and neither do we see it in the hinterland. Vocally yes they talk of goodwill but we don't see it on ground," he stated.
Putting the country's mind to rest he said that the Army has managed the situation well along the borders with China and Pakistan and there should be no cause for concern.
"The situation along the nearly 4,000-km long border between India and China has improved following the summit talks between Prime Minister Narendra Modi and Chinese President Xi Jinping in Wuhan last year. Certain directives have been issued to various formations along the border following the Wuhan summit and they are being followed. Common directives have been given to all the Commands It is not that different policies are being followed for Northern and Western border," General Rawat explained. In Ladakh the perception of LAC has huge gaps between India and China whereas in the North East it is not so, he feels.
Reiterating his views in Jammu & Kashmir the Army Chief said that while the security forces favour peaceful dialogue among stakeholders in Jammu and Kashmir, there will be zero tolerance on violence. "We're adopting both hard and soft approaches. The offer to terrorists to join the mainstream stays. If that happens, people of the state will be benefit the most. Security forces are deployed in Kashmir for peace but the separatists should also shun violence. Our position is very clear. Shun the gun and stop taking support from the western neighbour. Talks can happen only if they lay down weapons. During Ramzan, we had given opportunity to the separatists to lay down arms. But if someone picks up the gun, we will take action," he strongly stated.
He said the Indian Army was a professional outfit and never targeted civilians. However, when terrorists operating from the western border try to cross the border, it becomes difficult to differentiate between a civilian and a terrorist. Around 300 terrorists across the LoC waiting to infiltrate into India. Army is an apolitical organisation and it is not expected to get politicised but internal security is important and Army is responsible for it. And it is clear cut that if anything concerns national security it is our problem. Army is not there to koll but is there to bring peace. We are facilitators of peace," he stressed.
Putting queries on his statement at Raisina Dialogue 2019 to rest Army Chief said if a number of countries were talking to the Taliban, and if India has an interest in Afghanistan, then it should also join the bandwagon. "Do we have an interest in Afghanistan? If, yes, then we can't be out of the bandwagon… Should we in some way be a part of the talks? We should not be left out," he added. India's official policy has always been of no engagement with the Taliban but if rest of the countries including the US, Russia, Iran and Pakistan have been talking with the Taliban, India cannot be left far behind keeping its regional status in mind. India's support to the process should be on the condition of "Afghan-led and Afghan-owned strategy, he feels. Elaborating on the situation of Khalistan movement recurrence Rawat said, "we have state-of-the-art technologies to prevent such activities. Army's Northern Command would get new sniper rifles by January 20 and added that the force was using quad copters for surveillance in border areas. These high-end gadgets help in detecting explosives. Quad copters are being bought by units themselves for surveillance in difficult and sensitive areas. And if one gets shot at LOC there should not be a huge hue and cry."
Responding to a question on removal of AFSPA from J&K General Rawat said, " it is our people and our nation which is being swayed. Can someone give us guarantee that our formations and convoys will not be attacked? Our men going on leave will not be killed?"