MBDA offers Sea Ceptor to meet Indian Navy's SRSAM Requirement
By Sangeeta Saxena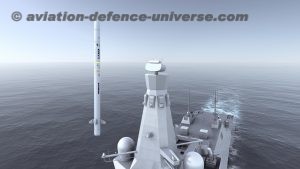 Bolton,UK/New Delhi. 23 September 2019. European missile consortium MBDA is bidding it's Sea Ceptor for Indian Navy's need of Short-Range Surface-to-Air(SRSAM) for the Indian Kamorta Class Corvette. A single shot hit to kill, soft vertical launch, range of more than 25 kilometres and full 360 degrees coverage make the Sea Ceptor an appropriate choice for the Navy's requirement.
Andrew Blackburn, Naval Systems Executive for Sea captor at MBDA's Bolton facilities in UK told the visiting Indian Media personnel that the missile entered the Royal Navy in2018 and has already been acquired by New Zealand and Chile and selected by Brazil. Sea Ceptor, the Common Anti Air Modular Missile (CAMM)calculates firing solution, its supersonic speed and high agility give excellent performance against fast manoeuvring targets. The Digital RF Active Seeker enables robust target acquisition and tracking accuracy, gives high performance against low RCS targets, even with sea clutter and electronic counter measures and intelligent fuze and warhead package maximise neutralisation of the threat.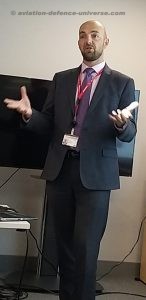 The Soft Vertical Launch technology of the missile helps in rapid response against "pop-up" threats, allows "shoot-look-shoot" firing policies to preserve munitions, has no need for launcher gas management thereby improving safety, reducing signature and enhancing threat detection, tracking and classification (Ship's 3D Radar). The Sea Ceptor also calculates firing solution.
Some of the USPs of Sea Ceptor are that the motor energy is not wasted on launch, tip over allows early seeker target acquisition, there is no rocket motor efflux management, no smoke obscuration or visual/thermal signature, no damage to launcher or upper deck equipment and launcher can be re loaded with zero maintenance.
CAMM uses "Wooden Round" concept designed to be stored in ship's launcher, magazine or silo for long periods with no maintenance, self contained missile and launch canister with integrated SVL Gas Generator, munition is designed and certified for naval or land use enables common stockpile with Ground Based Air Defence capability. The compact ship equipment has minimal dependency on ship sensors & services, digital solid state system uses standard, TCP/IP protocols for ease of integration and 19 inches rack equipment and fast Ethernet for connection to Combat System Network.
Sea Ceptor has been designed so that it can integrate with any modern Combat Management System (CMS) or via standalone console. It has Digital Interface and TCP/IP Protocols for exchanging status and command messages, multicast radar track and time synchronisation, services from Ship over Combat System LAN, flexible modes of operation depending on CMS architecture and user requirements. The system provides self and local area air defence capability, best in class performance and flexibility of use in all mission scenarios
It is compliance with Users' operational and technical requirements, very low missile UPC in comparison with peer systems on the market, can work with all modern CMS and surveillance radars, small on board footprint lightweight and compact and low technical risk uses standard interface protocols, Andrew stated.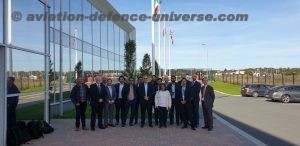 Indian Navy currently has given a deadline of 17th October 2019 for the response to the Request For Proposal ( RFP ) to replace its Israeli Barak-1 air defence systems on Kamorta class corvettes. MBDA is set to submit it's proposal. At the outset this was meant to be a Make in India project but the Request for Proposal (RFP) has been issued under the Buy (Global) category which means it will be an outright purchase of equipment from vendors. Procurement through foreign vendors may be the government-to-government route.(Editor Sangeeta Saxena was on the media tour of MBDA Bolton facility recently.)