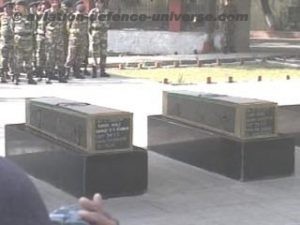 Remembering Major Dinesh Raghu Raman & Major K P Vinay
New Delhi. 02 October 2018. Young officers have always lead from the front and as we go back to the 2nd of October 2007, we have two officers of 34 Rashtriya Rifles Major Dinesh Raghu Raman & Major K P Vinay who proved just this by giving the supreme sacrifice while fighting insurgency at Baramulla in Kashmir.
Hyderabad based Major Vinay an Artillery officer attached with 34 RR was all set to get married on October 29 in Bangalore. His leave was already sanctioned and his parents in Hyderabad were just waiting for him to come and wind up the last minute preparations.Another upcoming happiness for the Jawans of 34 RR was that their Company Commander Major Raghu Raman was expecting his wife to give birth to their first child. Recently Major Dinesh's wife Ms Lata Kumari had shifted from London to be near her husband during pregnancy. Two weeks ago Major Raghu had visited her and made sure that she was comfortably settled down. He had already applied for leave from his unit in anticipation of the birth of their first child.
On October 2, 2007 in an anti insurgency operation both Major Dinesh Raghu Raman and Major K P Vinay
had attained martyrdom. In the operation nine terrorists all foreigners were eliminated.
Major Dinesh Raghu Raman expecting his first child was awarded with highest gallantry award Ashok Chakra and Major K P Vinay all set to get married was decorated with second highest gallantry award Kirti Chakra.
Maj Dinesh Raghu Raman has been awarded posthumously with the country's highest peacetime gallantry award. He did his schooling from Kendriya Vidyalaya, INA Colony, New Delhi and joined National Defence Academy in 1996. After passing out from NDA, he was commissioned into 19th Battalion of the Jat Regiment. During his short and illustrious career, Maj Dinesh Raghu Raman served in various appointments and was awarded Chief of Army Staff Commendation Card in Drass during operation Parakram.
Maj Dinesh Raghu Raman was posted to 34 Rashtriya Rifles Battalion (Jat) on February 22, 2006. In recognition of his leadership qualities and professional competence, he was given command of 'C' Company at Aripanthan. He conducted a very successful operation Narawar in June last year culminating in elimination of three hardcore terrorists.
On October 2 last year, Maj Dinesh Raghu Raman deployed his company in a village in Baramulla district of Jammu & Kashmir where an encounter with terrorists had commenced. While closing in on suspected houses, Major Raman heard shouts of a fellow officer who had been seriously injured. Displaying camaraderie and esprit-de-corps of the highest order, he crawled towards him under heavy hostile fire. He extricated him and two other injured soldiers to safety. He then took on two terrorists who had caused heavy casualties to the troops and in a fierce close quarter battle shot both of them dead. The other terrorists fired on Maj Raman from another house. In the ensuing firefight, Maj Raman was seriously injured. Undeterred, he continued leading and motivating his troops and pinned down the terrorists till he fell unconscious. He later succumbed to his injuries.
Maj Raman displayed most conspicuous bravery besides camaraderie and leadership of the highest order and made the supreme sacrifice for the nation.
ADU proudly remembers these two great sons of India and salutes the 34RR.