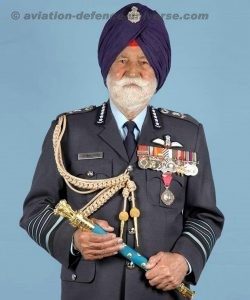 New Delhi. 15 April 2019. Today, Indian Air Force marked the beginning of celebration of birth centenary of Marshal of Indian Air Force Arjan Singh DFC. This day reminds the nation of contribution made by the Marshal to the nation and Indian Air Force. He would have turned 100 today.
For an officer who was entrusted with the responsibility of leading the Indian Air Force when he was only 44 years old, Marshal of the Indian Air Force Arjan Singh, DFC is revered for his Professional Competence, Leadership and Strategic Vision.
Arjan Singh was born on 15 April 1919 in Layallpur (now Faisalabad in Pakistan). He was 19 years of age when he was selected for training at RAF College Cranwell in 1938 and was commissioned into RAF as a Pilot Officer in December 1939. He was awarded Distinguished Flying Cross (DFC) for outstanding leadership, great skill and courage in Burma Campaign during World War II. He also led India as Chief of the Air Staff in the 1965 war against Pakistan, wherein IAF gained air superiority over PAF and helped Indian Army score strategic victories. He passed away on 16 September 2017 at the age of 98. The 8th October Air Force Day parade at the Hindon Air Force Base never seems the same any more. Both in 2017 and 2018 we missed his presence at the event terribly.
His dynamic personality, professional competence, honesty of purpose in his service to the country and the IAF truly sets him apart as a leader and an icon of the Indian Air Force.
To commemorate this, various events have been planned over a period of one year. IAF conducted a Half Marathon on 14 April 2019 flagging off from Jawahar Lal Nehru Stadium covering prominent places like Lodhi road, Mathura road, India Gate, Rajpath etc, and culminating again at Jawahar Lal Nehru Stadium.
Marshal of the Indian Air Force Arjan Singh was a visionary, a proponent of Air Power and he played a stellar role in laying the foundation of IAF as a formidable fighting force. As a tribute to his vision for IAF, a seminar with the theme "Air Power in the 2040: Impact of technology" was also held on 15 April 2019 at Air Force Auditorium, Subroto Park. The seminar was attended by various serving and retired dignitaries. After the seminar, Chief of the Air Staff, Air Chief Marshal BS Dhanoa, PVSM AVSM YSM VM ADC unveiled the bust of Marshal of the Indian Air Force at Air HQs (Vayu Bhawan).
IAF has also planned to conduct Marshal Cup All India Hockey tournament which kicked off today at Chandigarh and the same will conclude on 25 April 2019.