Courtesy : L&T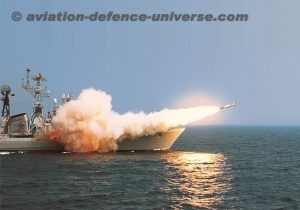 Mumbai. 01 December 2017. L&T's association with Indian Navy dates to mid-eighties, and over the past three decades L&T invested to evolve in to a trust worthy partner for the Navy by building an enviable track record to undertake warship building right from hull form design, sketch design, detailed design, engineering and construction of warships for Indian Navy and Indian Coast Guard as also build wide portfolio of equipment and systems across the "Float, Move and Fight" segments.
L&T's tryst with Navy's Indigenisation commenced in late 80s in the Move Segment when the company realised Controllable Pitch Propeller & Shafting Systems, Bearings & Stern Tubes, etc. for the Offshore Patrol Vessels and Brahmaputra Class of ships. Subsequently, L&T was qualified for realisation of Fixed Pitch Propeller systems for frigates and destroyers. Over the years, L&T has enhanced the portfolio in Naval Engineering Systems of Indigenously Designed, Developed, and realised  Systems such as Steering Gear, Fin Stabilisers (Fixed and Retractable type), Helicopter Handling Suite, Stabiliser systems for Radar, Towed Array Handling systems, Boat Davits, Replenishment at Sea (RAS) gear, Water-tight Hatches & Doors to name the major ones. In our drive for increasing value addition within the country, the latest system realised is the Water-jet propulsion systems, which is presently undergoing sea trials.
With the experience gained from above initiatives and basket of technologies developed in-house  over the years, we added Naval platform control systems, viz., Automated Power Management System (APMS), Integrated Bridge System (IBS), Integrated Platform Management System (IPMS), Degaussing Systems, and a range of switchgear, control gear and Switchboards to the Marine Equipment portfolio being offered from L&T.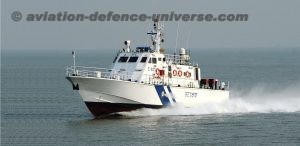 L&T leveraged the learnings from development of weapon systems for DRDO to design and develop a range of weapon systems for the Fight Segment for the warships and submarines since early 90s.  For Surface Ship Weapon Systems L&T built ASW Lightweight Torpedo Tube Launchers including Fire Control Systems, Beach Clearance Systems with stabilised platforms for WM18 Rockets and Fire Control Systems for range of LSTs since the early nineties. The product range grew to include complete Dhanush Strategic Launch Systems, BRAHMOS Inclined and Vertical configuration Launchers with associate Fire Control systems, Heavy Weight Torpedo Launch Systems (ITTLs), and Indigenous Rocket Launcher (IRL) Systems across Destroyers, Frigates and Corvette classes, Repair of Torpedo Tubes for HDW class submarine and refitting on board, universal underwater torpedo launch systems (push out as well as swim-out)  as also range of missile launch canisters besides range of embarkation / disembarkation systems, weapon handling systems for warships and underwater platforms, amongst other systems.
Besides realising the Weapon Delivery Systems for the naval platforms, L&T also contributed to integration of these systems to the Sensors on board the ships. As a development partner to LRDE and BEL for naval radar 'Revathi', L&T developed and delivered Stabilized Platforms fitted out (operational) on Destroyers and Corvettes. L&T is geared to provide end-to-end integration solutions in partnership with DRDO, BEL, leveraging L&T's track record in Fire Control Systems, Command Control, Secure Communication Systems and Launch Systems. In the spirit of Public-Private-Partnership, L&T joined hands with DRDO (LRDE) & BEL in 3D-CAR program. L&T continued its joint efforts for development of Platform and Antenna for the Arudra and Ashwini Phased Array Radars.L&T has also made significant investments in development of 'Stealth' Radar technology capabilities to build Low power FMCW (Frequency Modulated Continuous Wave) Radars.
With the opening of the Defence Sector in 2002, L&T with a deep rooted commitment to serve the Indian Defence Segment, built a defence shipyard at Hazira Manufacturing Complex in 2007 and added a Greenfield Mega Shipyard at Kattupalli near Chennai in 2012 leveraging the strategic advantages of locating such a facility on the East coast. Set up over a 950 acre sprawling complex, today Kattupalli Shipyard is India's largest shipyard designed in-house and built to globally bench marked technological practices. Ahead of investing in production complexes L&T set up Design Centres for Submarine Design in 2001 followed by Warship Design Centre in 2007.
Throughout this journey, the differentiating factor for L&T has been its in-house design capabilities. During a visit to all the eight work centres, one can witness dedicated and world class infrastructure and globally benchmarked capabilities that L&T has built and nurtured over the past almost three decades for design and construction of submarines and warships building — holistically for serving Defence Sector. In this journey, L&T has actively involved industry segment across the MSME segment as a part of its supply chain. Today about 200 of such enterprises are 'Trusted Partners' to L&T's drive for increasing indigenisation and receive more than half of orders for what L&T Defence procures from anywhere.
It is a matter of pride for L&T that the systems supplied by it are installed and are operational across about 70 Indian Naval Platforms and about 43 under construction vessels ranging from Front line Warships, Auxiliary Ships as well as underwater Vessels built or refitted over the past two and a half decades. In addition, L&T made equipment were also supplied to around 5 platforms exported to friendly nations. L&T has also delivered 34 Interceptor Boats to Indian Coast Guard and built 20 more. As I mentioned earlier, the construction of FDN completed and the platform is ready for handing over. We also launched the Lead Offshore Patrol Vessel (OPV) of a series of seven OPVs for the Indian Coast Guard in Oct this year.
With the thrust and the vision of 'Make in India' as brought out earlier, this strategic sector shall only continue to witness enhanced thrust from L&T towards attaining self-reliance in mission mode to empower the Nation aspirations of a regional superpower.