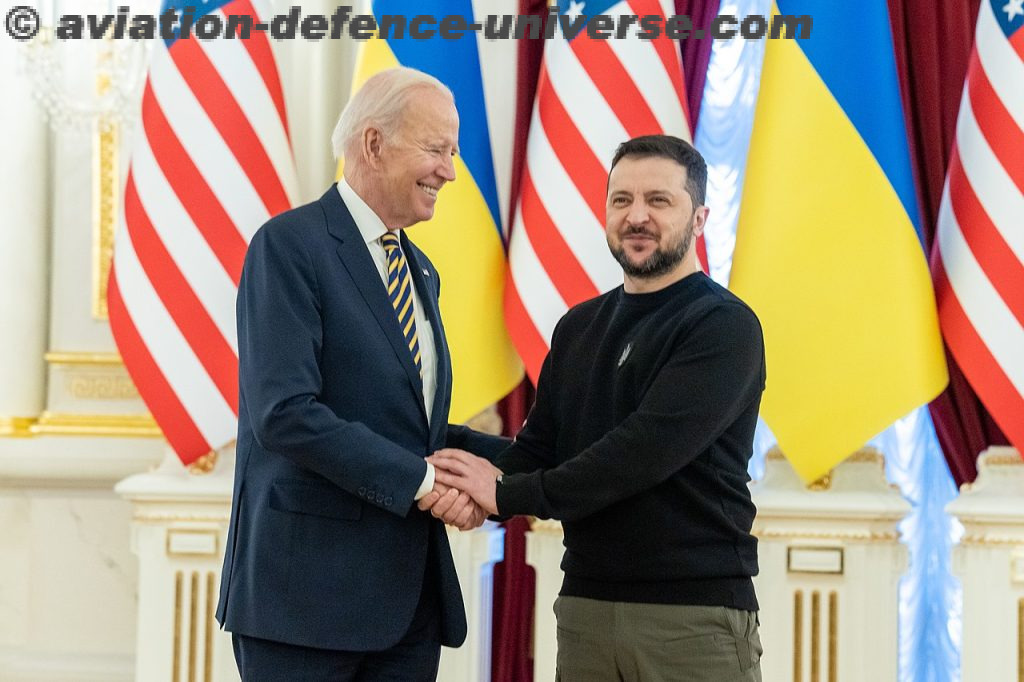 Zelensky gets a confidence booster shot
Putin reacts by walking out of the new START Treaty
By Sangeeta Saxena
New Delhi. 21 February 2023. It was a one of its kind head of the state visit where the host knew , the common enemy knew but the world didn't. This is heresay but interesting. The fact is that US President Joe Biden was in Kyiv to meet President Volodymir  Zelensky and show solidarity with Ukraine as the war with Russia completes a year on 24th February. A hush hush unannounced visit sent a message reiterating support for Ukraine by the US to the rest of the world.
As  per the US media reports, at about 4am EST on February 19, 2023, Biden left the official Presidential Palace, the White House for Joint Base Andrews to catch his flight  to Rzeszów, Poland, with a refueling stop at Ramstein Air Base in Germany, on a Boeing C-32A with the call sign "SAM060".  Yes it was not the Airforce One. After arrival at Rzeszów and transfer by car to Przemyśl, Biden boarded an overnight train to Kyiv, the method by which many world leaders visited the capital since the beginning of the invasion. The Russian government was informed prior to Biden's visit. The train ride lasted nearly 10 hours. During Biden's five hours in Kyiv, he was transported in a black limousine rather than the usual armored presidential car. Would definitely make a great opening sequence to a Hollywood saga on Ukraine war , if produced in the future.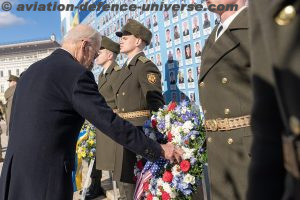 As the global count down to the launch of the Russian operation on Ukraine has begun,  the two Presidents displayed camaraderie and unison not to miss the joint resolve to fight Russia with full force.  Factual fighting by Ukraine and support by US in supplying arms and equipment as much as needed. Not to forget that US also is the big brother who leads NATO and this makes all the other countries who are a part of the coalition, committing to be on Ukraine's side in this war of two neighbours.
"And we hope that this year, the 2023, will become a year of victory.  This unprovoked and criminal Russia's war against Ukraine and against the whole world and democratic world has to end with liberating the whole of Ukraine's territory from Russia's occupation and the solid guarantees of the long-term security for our country as well as Europe and the whole world," exhorted the Ukrainian President Zelinsky.
A White House statement said working with European partners and Ukraine, the United States also launched the Ukraine Defense Contact Group—a coalition of 50 partner nations that has enhanced our coordination of security assistance deliveries to help the people of Ukraine as they continue to defend themselves against Russia's unjust and unprovoked assault. Together, members of this group already committed $50 billion security assistance, including nearly 700 tanks and thousands of other armored vehicles, more than 1000 artillery systems, more than two million rounds of artillery ammunition, more than 50 advanced multiple rocket launch systems, and anti-ship and air defense systems. In total, the United States has committed more than $30.4 billion in security assistance to Ukraine since the beginning of the Biden Administration, including approximately $29.8 billion since the beginning of Russia's unprovoked and brutal invasion on February 24, 2022.
Expectantly Zelensky stated , " I know, Mr. President, that there will be a very significant package of security support to Ukraine.  And currently, it will serve as a clear signal that Russia's attempts of relaunch will have no chance and that we will together defend our cities and citizens from Russia, will have more impetus towards our victory. And today we have yet again underlined that we have our common vision with regards to the perspectives of this war.  We have coordinated the follow-on pressure on the terrorist state.  We are working hard on the reinforcement of sanctions, both bilaterally and in the form of G7, which is very important."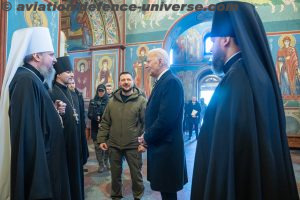 Biden stated that the coalition of nations, from the Atlantic to the Pacific he had led in building is committed to help Ukraine defend itself with unprecedented military, economic, and humanitarian support thereby uniting leading economies of the world to impose unprecedented cost that are squeezing Russia's economic lifelines.
"Together, we've committed nearly 700 tanks and thousands of armored vehicles, 1,000 artillery systems, more than 2 million rounds of artillery ammunition, more than 50 advanced launch rocket systems, anti-ship and air defense systems, all defend U- — to defend Ukraine.  And that doesn't count the other half a billion dollars we're going to be — we're announcing with you today and tomorrow that's going to be coming your way.  And that's just the United States, in this piece. And just today, that announcement includes artillery ammunition for HIMARS and howitzers, more Javelins, anti-armor systems, air surveillance radars that'll protect Ukrainian people from aerial bombardments," he informed.
"Later this week, we will announce additional sanctions against elites and companies that are trying to evade sanctions and backfill Russia's war machine. And thanks to a bipartisan support in Congress, this week we're delivering billions in direct budgetary support — billions in direct budgetary support — which the government can put to use immediately and help provide for basic services of citizens," he added.
Earlier this week, the Biden Administration had announced the 32nd security assistance package using Presidential Drawdown Authorities (PDA) for Ukraine, which included critical capabilities such as air surveillance radars to enhance Ukraine's air defenses and Javelin anti-tank weapons that Ukraine has used to defend itself on the battlefield. That PDA package will draw from existing U.S. stocks to help Ukraine fulfill its immediate battlefield needs.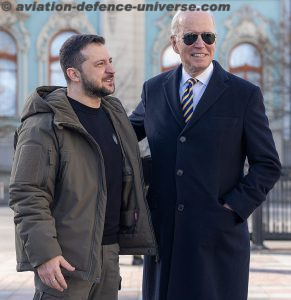 Biden strongly said, "Putin thought Ukraine was weak and the West was divided.  As you know, Mr. President, I said to you at the beginning, he's counting on us not sticking together.  He was counting on the inability to keep NATO united.  He was counting on us not to be able to bring in others on the side of Ukraine. He thought he could outlast us.  I don't think he's thinking that right now.  God knows what he's thinking, but I don't think he's thinking that. But he's just been plain wrong.  Plain wrong. And one year later, the evidence is right here in this room.  We stand here together."
This week, the United States began disbursing $9.9 billion in grant financing via the World Bank's Public Expenditures for Administrative Capacity Endurance (PEACE) mechanism on a reimbursement basis once expenses have been verified. In 2023 commitments from the European Commission, Japan, Canada, and the United Kingdom, to provide Ukraine with needed economic assistance have also been made. The G7 has increased its commitment of budget and economic support to Ukraine to $39 billion for 2023. Today, G7 Leaders asked Finance Ministers to continue engagement with the International Monetary Fund and Ukraine to deliver an ambitious program by the end of March 2023 and to continue working together, with the IMF and others for necessary budget support to Ukraine throughout and beyond 2023.
Amidst all this excitement in war torn Ukraine one cannot but miss the reaction to this visit from Moscow. Russian President Vladimir Putin addressed the Federal Assembly on the morning of 21st February . He said, "We are not at war with the people of Ukraine. I have made that clear many times. The people of Ukraine have become hostages of the Kiev regime and its Western handlers, who have in fact occupied that country in the political, military and economic sense. Responsibility for inciting and escalating the Ukraine conflict as well as the sheer number of casualties lies entirely with the Western elites and, of course, today's Kiev regime, for which the Ukrainian people are, in fact, not its own people. The current Ukrainian regime is serving not national interests, but the interests of third countries."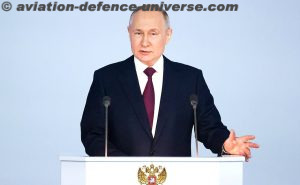 "The West is using Ukraine as a battering ram against Russia and as a testing range. I am not going to discuss in detail the West's attempts to turn the war around, or their plans to ramp up military supplies, since everyone is well aware of that. However, there is one circumstance that everyone should be clear about: the longer the range of the Western systems that will be supplied to Ukraine, the further we will have to move the threat away from our borders. This is obvious. The Western elite make no secret of their goal, which is, I quote, 'Russia's strategic defeat.' What does this mean to us? This means they plan to finish us once and for all. In other words, they plan to grow a local conflict into a global confrontation. This is how we understand it and we will respond accordingly, because this represents an existential threat to our country. However, they too realise it is impossible to defeat Russia on the battlefield and are conducting increasingly aggressive information attacks against us," Putin stated.
He at the end of the speech dropped the bombshell. "I am compelled to announce today that Russia is suspending its membership in the New START Treaty. To reiterate, we are not withdrawing from the Treaty, but rather suspending our participation. Before we come back to discussing this issue, we must have a clear idea of what NATO countries such as France or Great Britain have at stake, and how we will account for their strategic arsenals, that is, the Alliance's combined offensive capabilities. Given these circumstances, the Defence Ministry and Rosatom must make everything ready for Russia to conduct nuclear tests. We will not be the first to proceed with these tests, but if the United States goes ahead with them, we will as well. No one should harbour dangerous illusions that global strategic parity can be disrupted."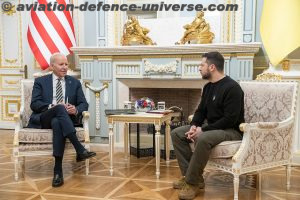 As all eyes are on US, Ukraine and Russia for the last 24 hours, the world is also waiting to see how the 24th of February which is just three days away shapes.  Meanwhile lets take a look at what the White House has released – a list of the security assistance it has committed to Ukraine.  The story will continue and we will keep updating you all.
United States security assistance committed to Ukraine includes:
Over 1,600 Stinger anti-aircraft systems;
Over 8,500 Javelin anti-armor systems;
Over 54,000 other anti-armor systems and munitions;
Over 700 Switchblade Tactical Unmanned Aerial Systems;
160 155mm Howitzers and over 1,000,000 155mm artillery rounds;
Over 6,000 precision-guided 155mm artillery rounds;
Over 10,000 155mm rounds of Remote Anti-Armor Mine (RAAM) Systems;
100,000 rounds of 125mm tank ammunition;
45,000 152mm artillery rounds;
20,000 122mm artillery rounds;
50,000 122mm GRAD rockets;
72 105mm Howitzers and 370,000 105mm artillery rounds;
298 Tactical Vehicles to tow weapons;
36 Tactical Vehicles to recover equipment;
30 ammunition support vehicles;
38 High Mobility Artillery Rocket Systems and ammunition;
30 120mm mortar systems and over 175,000 120mm mortar rounds;
10 82mm mortar systems;
10 60mm mortar systems;
Over 2,500 Tube-Launched, Optically-Tracked, Wire-Guided (TOW) missiles;
545,000 rounds of 25mm ammunition;
120mm ammunition;
Precision-guided rockets;
Ten Command Post vehicles;
One Patriot air defense battery and munitions;
Eight National Advanced Surface-to-Air Missile Systems (NASAMS) and munitions;
Two HAWK air defense firing units and munitions;
RIM-7 missiles for air defense;
12 Avenger air defense systems;
Anti-aircraft guns and ammunition;
Equipment to integrate Western air defense launchers, missiles, and radars with Ukraine's air defense systems;
Equipment to sustain Ukraine's existing air defense capabilities;
High-speed Anti-radiation missiles (HARMs);
Precision aerial munitions;
4,000 Zuni aircraft rockets;
20 Mi-17 helicopters;
31 Abrams tanks;
45 T-72B tanks;
109 Bradley Infantry Fighting Vehicles;
Four Bradley Fire Support Team vehicles;
Over 1,700 High Mobility Multipurpose Wheeled Vehicles (HMMWVs);
Over 100 light tactical vehicles;
44 trucks and 88 trailers to transport heavy equipment;
90 Stryker Armored Personnel Carriers;
300 M113 Armored Personnel Carriers;
250 M1117 Armored Security Vehicles;
Over 500 Mine Resistant Ambush Protected Vehicles (MRAPs);
Six armored utility trucks;
Mine clearing equipment and systems;
Over 13,000 grenade launchers and small arms;
Over 100,000,000 rounds of small arms ammunition;
Over 75,000 sets of body armor and helmets;
Approximately 1,800 Phoenix Ghost Tactical Unmanned Aerial Systems;
Laser-guided rocket systems;
Puma Unmanned Aerial Systems;
15 Scan Eagle Unmanned Aerial Systems;
Two radars for Unmanned Aerial Systems;
Unmanned Coastal Defense Vessels;
Over 70 counter-artillery and counter-mortar radars;
20 multi-mission radars;
Counter-Unmanned Aerial Systems and equipment;
Counter air defense capability;
18 air surveillance radars;
Two harpoon coastal defense systems;
58 coastal and riverine patrol boats;
M18A1 Claymore anti-personnel munitions;
C-4 explosives, demolition munitions, and demolition equipment for obstacle clearing;
Obstacle emplacement equipment;
Tactical secure communications systems;
Four satellite communications antennas;
SATCOM terminals and services;
Thousands of night vision devices, surveillance systems, thermal imagery systems, optics, and laser rangefinders;
Commercial satellite imagery services;
Explosive ordnance disposal equipment and protective gear;
Chemical, Biological, Radiological, Nuclear protective equipment;
100 armored medical treatment vehicles;
Over 350 generators;
Medical supplies to include first aid kits, bandages, monitors, and other equipment;
Electronic jamming equipment;
Field equipment, cold weather gear, and spare parts;
Funding for training, maintenance, and sustainment.
The United States also continues to work with its Allies and partners to provide Ukraine with additional capabilities to defend itself. Nearly a year since it began, the war in Europe doesn't seem to be near it's end.