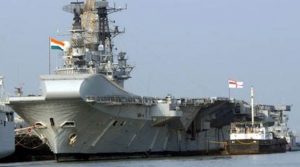 New Delhi. 03 December 2016. It was an year of bidding adieu for the Indian navy this year. INS Virat sailed off into the horizon for the last time after nearly six decades in service. It is on its last trip from Mumbai to Kochi .
The ship docked in Southern Naval Command on July 27 where all  equipment on board like engines, radars, guns were dismantled  and  then the ship was towed back to Mumbai where it will be decommissioned.
Viraat which  was originally commissioned by British Royal Navy as HMS Hermes on November 18, 1959 and was decommissioned from active duty in 1985. After undergoing refits It was inducted into Indian Navy in 1987.