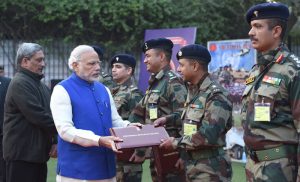 New Delhi. 16 January 2016. Very few know  that,innovation is the new mantra for these men who understand their equipment and future needs the best.
Soldiers, Junior Commissioned Officers and Young Officers of the Indian Army have just done this. Prime Minister Narendra Modi reviewed the various innovations made by these men at the Army Day At Home.
And the moral of our story is— you don't have to be a scientist to innovate and come out with the best products which promise to fulfill our needs.