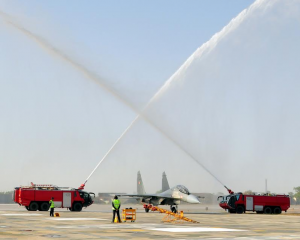 New Delhi. April 24, 2017. In a solemn ceremony on 24 Apr 17, the Su30 MKI aircraft was inducted into 221 Squadron, 'Valiants', of the IAF. Air Marshal C Hari Kumar AVSM VM VSM ADC, Air Officer Commanding-in-Chief, Western Air Command IAF was the chief guest for the occasion. Among the distinguished guests were Mr Daljeet Singh, CEO, Hindustan Aeronautics Limited and other officials from HAL.
The 'Valiants' which flew Mig-23 aircraft till 2009, is now equipped with the formidable Su30 MKI aircraft. The Su 30 MKI is a state of the art all weather multi role fighter aircraft capable of undertaking varied air combat and ground attack missions.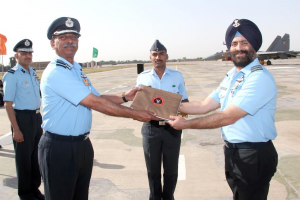 The 'Valiants' were formed as an offensive fighter squadron on 14 Feb 1963 at Barrackpore with Sqn Ldr N Chatrath as the first Commanding Officer. The Squadron was than equipped with three types of aircraft namely the Vampires, Spitfire, Hurricane and Su-7 aircraft. The squadron has changed many bases during its fifty four years long journey and has taken part in 1971 War and Kargil operations. Su-7 aircraft of the Valiants roared over East Pakistan in support of the Indian Army's blitzkrieg advance in 1971. The 'Valiants', operating the MiG-23s, were the first ones to fire weapons on the enemy during the Kargil war. Many of the squadron pilots have been decorated with gallantry awards over the years.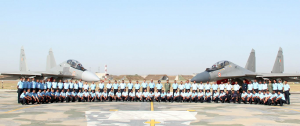 Personnel from the Air Force Station and their families witnessed a well organised ceremony on this occasion. Air Cmde DV Khot VM, Air Officer Commanding of the Air Force Station and his team have worked hard for the smooth induction of the new Su-30 Squadron. The induction of the Squadron will boost the offensive capabilities of the Indian Air Force in this sector. The Flight Commander of the Squadron performed an impressive Low Level Aerobatic Display.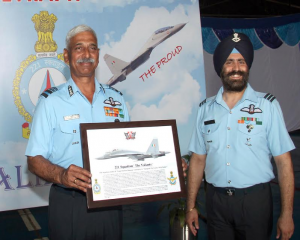 Air Marshal C Hari Kumar formally handed over the official documents of the Squadron to Wing Commander HS Luthra, the Commanding Officer of the Squadron. In his address, the Air Marshal congratulated the air warriors of the Squadron on the timely induction of the mighty Su 30 MKI. He appreciated the tireless efforts put in by all the personnel of the base. The Air Marshal and his wife Mrs Devika Hari Kumar interacted with the squadron personnel during the tea after the ceremony.