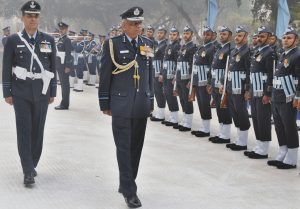 New Delhi. 31 December 2016. Air Marshal Deo was accorded a ceremonial guard of honour and a traditional send off at HQ WAC prior to his departure. In his farewell address to all personnel of HQ WAC on 30 December 2016, the Air Marshal complimented personnel of all branches of WAC for their exceptional performance.
He stated that "the prevailing security situation poses a big challenge today. We must preserve our precious assets and prevent loss of life at all costs. At the same time, it should not take away focus from our Operational Preparedness, which is the essence of our existence". He cautioned against complacency, stating that, "…..be prepared to meet any external threat and always keep your powder dry". He cautioned the personnel against malicious misinformation campaign on the social media.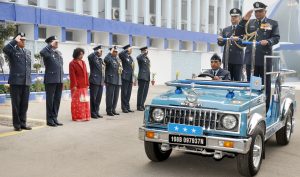 He highlighted the efforts of the outgoing CAS & COSC in vigorously pursuing issues of OROP and Pay Commission with the Govt. He lauded the efforts by the IFA at WAC and its team towards ensuring both, better operational preparedness as well as improvement in quality of life. He highlighted how the civilian staff at HQ WAC has set a new benchmark in matching their work ethics with uniformed personnel. He appreciated the hard work put in by the Non Combatant Enrolls (NC(e)s), highlighting importance of their task in achieving the overall organisational goals.
The AOC-in-C lauded the brave and fearless personnel of DSC. "….being first line of defense, they gave an exemplary account of Bravery Courage & Sacrifice during anti-terrorist operations at AF Stn Pathankot".