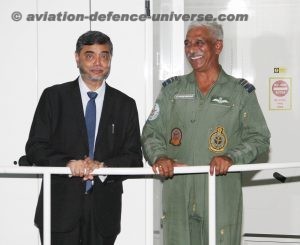 New Delhi 30 August 2017. A Commemoration Ceremony was held at Air Force Station Hindon to mark the successful operationalisation of the C-130 J full motion level D Weapons System Trainer (Simulator).
The simulator was rededicated to the nation and the Indian Air Force by Air Marshal C Hari Kumar AVSM VM VSM ADC, the Air Officer Commanding-in-Chief of Western Air Command. The event coincided with the completion of yet another aircrew training programme wherein eight pilots graduated towards the next phase of operational deployment. Expressing his satisfaction over the progress of trainees, the Air Marshal said, " Training is the bedrock of achieving operational excellence. Successful completion of the training here lays foundation for the new platforms that IAF is inducting, including C-17 Globemaster, Apache and Chinook."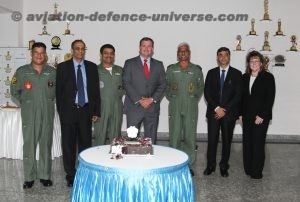 The C-130 J simulator is the first full motion simulator for the IAF, operationalised, managed and maintained by Mahindra Defence Systems Ltd in association with Lockheed Martin Corporation, USA. The technology and configuration and configuration of the simulator enable trainee aircrew to perform precision low-level flying, airdrops, disaster relief, HADR Operations and landing in blackout conditions status with zero Flight Time.
Complementing Mahindra Defence Systems, the Air Marshal, added that the IAF has tremendously benefitted from this industry led training model and he hoped that this association would bring rich dividends to the Air Force.