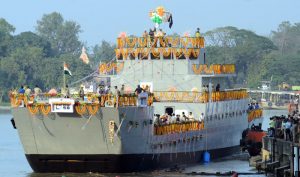 By Cmde. AJ Singh
New Delhi. 02 December 2017. As the Indian Navy celebrates the Navy Day on 04 December and the submarine arm its Golden Jubilee later the same week (08 December), it has much to be proud of, not only as a sentinel of India's maritime frontiers but as a champion of nation building with its emphasis on indigenisation.
The Navy is justifiably proud that all the 40-odd ships and submarines currently on order are being built in Indian shipyards, including an aircraft carrier and nuclear powered ballistic missile submarines, both of which are the gold standard in shipbuilding technology. We have reached a degree of maturity where sophisticated platforms like guided missile destroyers, nuclear attack submarines and stealth frigates are also being designed indigenously.
The importance of indigenisation and self-reliance in defence can never be emphasised enough. Import dependence is a strategic vulnerability that we can ill afford and this has been brought home to us on two occasions in the recent past – the collapse of the Soviet Union in 1991 which led to a meltdown of the Soviet defence industrial complex and in 1998 when the western world imposed sanctions on us subsequent to the nuclear tests that year. Each of these greatly affected India's military preparedness at a time the country was passing through a critical phase.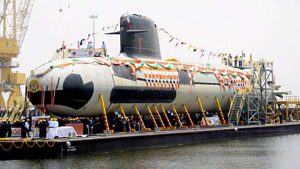 In the emerging geopolitical dynamic in the Indo-Pacific with its predominantly maritime orientation, India is poised to don the mantle of being the region's pre-eminent power – an aspiration reflected in the recent foreign policy initiatives in engaging more actively with the world. If we are to do so from a position of strength, the Indian Navy, as the principal exponent of India's maritime power, will have a significant role to play.
 The Indian Navy has a very clear understanding of its objectives and the course it needs to chart. This has not only been articulated in the Indian Maritime Doctrine and its Strategy document but is also formalised and monetised through its long, medium and near term plans. Navies are expensive to build and in a country where resources are always at a premium, a realistic long term perspective is of the essence .
  This impressive report card notwithstanding, there are systemic deficiencies which threaten to stymie the logical progression of this capability. The two most significant of these is the inadequacy in our ship design capability and the lack of ship building capacity to meet the navy's current and future plans. These can be easily addressed provided there is a coherence and convergence of intent towards achieving a synergy of effort from all stakeholders.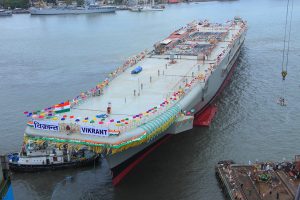 Warship design in India is undertaken within the Navy itself by the Directorate General of Naval Design. DGND was established over 50 years ago and during this period they have achieved an enviable degree of proficiency and success which is reflected in the state-of-the art ships that are being commissioned into the navy which are on par with global standards.  However, DGND is unable to cope with the sheer volume of design activity to deliver the different types of ships required by the navy.
The starting point for any warship is its design. Once the Navy draws up the outline requirements, the designers endeavour to develop a design that optimises the capability that is desired in the platform. However just one design agency for a growing navy is grossly insufficient.  It is therefore high time that our shipyards, both public sector and privately owned, allocate adequate resources towards developing this expertise. Relying on foreign design agencies is not only fraught with risk which makes us vulnerable but could be very expensive as well.  This requires naval architecture to be popularised as subject with adequate employment opportunities. Various attempts have been made at establishing design research bureaus in the country but these have not achieved the desired results so far.
Besides meeting the design requirement of the Indian Navy which is a prime consideration, the recent endeavour of the Government to encourage shipyards to bid for export orders from friendly navies makes in-house design capability an imperative if we are to compete on the global stage. Defence exports provide economic, diplomatic and military leverage and should be a national objective.  China's increasing footprint in Asia is a prime example,
The quantitative and qualitative deficiency in ship design  has necessitated the Indian Navy to seek design expertise for the MCMV programme, the ASW Shallow Water Craft, the Landing Platform Dock etc and Project 75(I) from abroad. This not only delays decision making and adds to the cost of the project but also affects timely execution as is happening with all the above-mentioned programmes.
The other big constraint on our shipbuilding capability is the lack of sufficient capacity to meet the navy's requirement of getting ships on time and within cost. The country has five major public-sector shipyards, of which four – MDL Mumbai, GRSE Kolkatta, GSL Goa and HSL Visakhapatnam are under the MoD whereas CSL Kochi is under the shipping ministry. Warship building is the mainstay of all these yards and they have confirmed orders from the MoD in excess of Rs. 150,000 Crores. With a combined annual output in revenue terms of less than Rs. 10000 Crores , it would take at least 15 years  for them to fulfil their current order book. Given their track record so far, this is a very optimistic estimate as they have consistently failed to deliver ships either on time or within their contracted cost. Despite this, the MoD continues to place orders on these yards with not a care for the effect this would have on the navy's combat capability. Even in a competitive environment they are bidding at a price that makes them L1 but whether they will be able to deliver at that price if the entire programme were to be costed will be interesting to observe.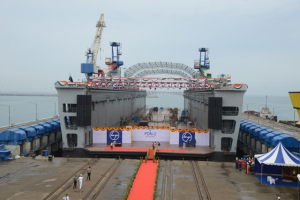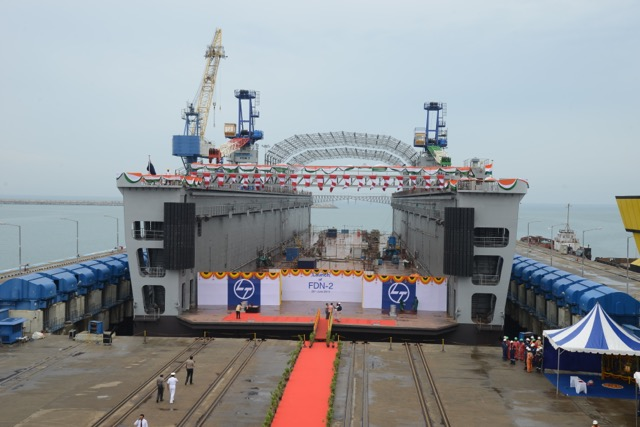 The entry of private shipyards into warship building presented a viable business case given the requirement and should have been welcomed to complement and enhance the existing capacity. However, the MoD, in its anxiety to keep the public sector yards in business because of their own stake in them has systematically destroyed a golden opportunity to the extent that two of the four major private shipyards are out of business, a third is in deep financial distress and the fourth is barely hanging in there with support from its larger parent company. It is unfortunate that the MoD, and specifically the Department of Defence Production has failed abysmally in creating an enabling environment to widen India's defence -industrial base and continue to sacrifice it at the altar of a parochial protectionism of the DPSUs.
In the last ten years or so, the MoD has promulgated numerous policies and guidelines which, on paper appear to encourage private sector participation and higher self-reliance but most of these, hailed as game changers, have failed to get off the ground because of conditionalities imposed by the same MoD. The Joint venture guidelines, hailed as a game changer to synergise the efforts of the private and public sectors comes immediately to mind as one such failure. The latest is the Strategic Partnership model – on its success will hinge the country's critical military preparedness.
It is therefore obvious that India's indigenous warship building capability needs urgent attention to meet the country's maritime security requirements and it is unlikely that this is going to be driven by the MoD's civilian bureaucracy if their track record thus far is any indication.
Defence reform anywhere in the world has rarely been driven from within. It requires a strong political conviction and a clear idea of the nation's future foreign and security policy imperatives. Indigenisation, self-reliance and a robust defence industrial base are critical to a nation's credibility on the global high table that India aspires to.  Perhaps shipbuilding would be a good place for India and its Ministry of Defence to start walking the talk.
The author Commodore AJ Singh is an ex-submariner of the Indian Navy and  a defence expert. He is the Vice President at Indian Maritime Foundation. The views in the article are solely the author's. He can be contacted at [email protected]