Indian Navy RFP for 57 deck based fighters by mid 2018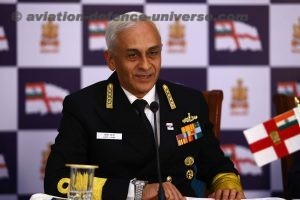 New Delhi. 01 December 2017. India's Chief of Naval Staff Admiral Sunil Lanba gave timelines to the indigenous aircraft carrier and justified Indian Navy's stand on saying no to LCA Navy. He put a lot of inquisitive minds to rest, speaking at the annual press conference ahead of Navy Day 2017, categorically stating that the Indian Navy is not only committed to indigenisation but has supported the LCA Navy project and will continue to support it.
"The indigenous aircraft carrier is due to be inducted in 2020. I need deck-based jet fighters by then. The LCA Navy is nowhere on the horizon. At present, it cannot be operated from the deck. It still has to go through carrier compatibility trials; it is under-powered; it cannot take off with ordnance. I need a fighter which can operate from an aircraft carrier and is combat-capable," he informed.
The CNS also revealed that the Navy has already paid its share of costs for the LCA Navy programme, which was around 40 per cent of the total project cost for Mark I of LCA, amounting to Rs. 600 crore. The Navy is supposed to pay 60 per cent of the cost of the Mark II of LCA and has so far has given Rs. 300 crore for the project, and the transfer of the remaining money is linked to the project's milestones.
"It is a good plane to fly and we are committed to this project. As and when the Defence Research and Development Organisation and Aeronautical Development Agency produces an indigenous deck-based fighter jet, we will be willing to induct it, " he added.
Reiterating this stand, he stated that the RFP for 57 deck based fighters should be floated by mid 2018 as four vendors had responded to Navy's RFI. He also put to rest all doubts about financial constraints in procuring these fighter jets. Though not ready to name the manufacturers who have responded to the RFI, there are no prizes for guessing these would be Dassault, Saab, Rosoboronexport and Boeing.
The fighters are intended as day and night capable, all weather multi-role deck based combat aircraft which can be used for Air Defence (AD), Air to Surface Operations, Buddy Refuelling, Reconnaissance, EW missions etc from IN aircraft carriers, says Indian Navy. The deliveries of the aircraft would need to commence within three years post conclusion of contract, and be completed within further period of three years.
As per the DPP-2016 the winner will have to undertake offset contracts amounting to 30 % of the value of commercial, will have to sign an integrity pact along with appropriate IPBG, a performance-cum-warranty bond of 5% of value of the contract is required to be submitted after signing of contract and a ToT is mandatory as the Government of India is desirous of license production of the aircraft after acquiring ToT in the case.
The fighter selected must be suitable for both STOBAR and Catapult Take-off But Arrested Recovery (CATOBAR) carrier operations. India's only air craft carrier at the moment INS Vikramaditya is STOBAR compatible and not CATOBAR.
The aircraft will need to have carriage space of four Beyond visual range (BVR) missiles and Two Close combat Air-to-Air missile with 75 percent internal fuel and 100 percent gun ammunition.
The chosen aircraft must be flying from carriers in the country of origin, is a major requirement of this procurement. And all the four contenders fit this bill.
So eventually this Navy Day is reiteration of bad news for LCA Navy and good news for the four contenders and their Indian partners.