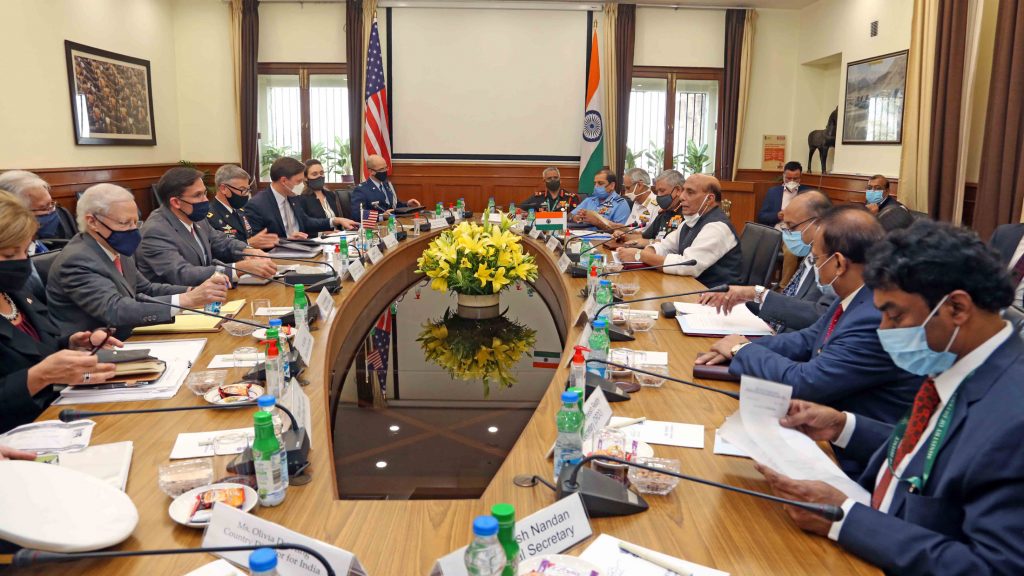 2+2 Ministerial Meet begins
Defence Minister Rajnath Singh holds bilateral talks with his US counterpart Mark Esper
New Delhi. 26 October 2020. India and US are set to sign Basic Exchange and Cooperation Agreement (BECA) for Geo-Spatial cooperation. BECA will allow India to use the geospatial maps of the USA to get pinpoint military accuracy of automated hardware systems and weapons such as cruise and ballistic missiles.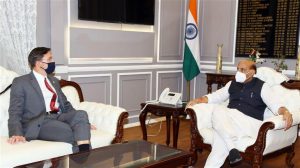 BECA is an important precursor to India acquiring armed unmanned aerial vehicles such as the Predator-B from the USA. Predator-B uses spatial data for accurate strikes on enemy targets. BECA is one of the four foundational military communication agreements between the two countries. Initially, India had reservations to geospatial mapping on the grounds of national security, but they were later addressed by mutual dialogue and discussion between the two countries.
BECA is the third of the agreements, India already having signed the Logistics Exchange Memorandum of Agreement (LEMOA) and the Communications Compatibility and Security Agreement (COMCASA).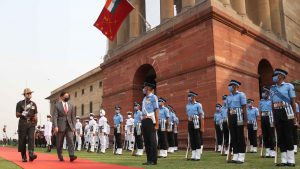 Dr. Mark T. Esper, Secretary of Defence of the United States of America is visiting India for the 2+2 Ministerial Meeting. Indian Defence Minister Rajnath Singh, had a bilateral meeting where the two ministers reviewed bilateral defence cooperation spanning military to military cooperation, secure communication systems and information sharing, defence trade and industrial issues and also discussed ways to take bilateral cooperation forward.
Both the Ministers expressed satisfaction at the close engagements between the respective Armed Forces. They discussed potential new areas of cooperation, both at Service to Service level and at the joint level. They called for continuation of existing defence dialogue mechanisms during the pandemic, at all levels, particularly the Military Cooperation Group (MCG). They also discussed requirements of expanding deployments of liaison officers.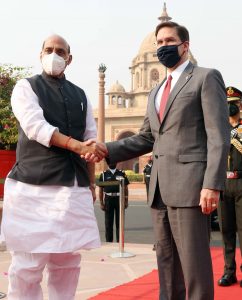 The two ministers expressed satisfaction that agreement of BECA will be signed during the visit. US Secretary of Defence welcomed Australia's participation in the exercise MALABAR 2020.
Rajnath Singh elaborated upon the initiatives under the ATMANIRBHAR BHARAT to encourage investments in the defence industry in India and invited US companies to make avail of the liberalized policies and the favorable Defence Industry ecosystem in India.
It is a format of dialogue where the defense and foreign ministers or secretaries meet with their counterparts from another country. 2+2 Ministerial is the highest-level institutional mechanism between the two countries. With the US this is the third meet. The second 2+2 meeting was held at Washington and the first one was held in New Delhi in September 2018. US holds such ministerial dialogues with Australia and Japan also. The new dialogue format was agreed to between India and the US during the visit of Prime Minister Narendra Modi to Washington D.C. in June 2017. The 2+2 dialogue between India and the US has been described as an upgrade in ties between both countries. It is an acknowledgement of India's rise as an economic and strategic power .