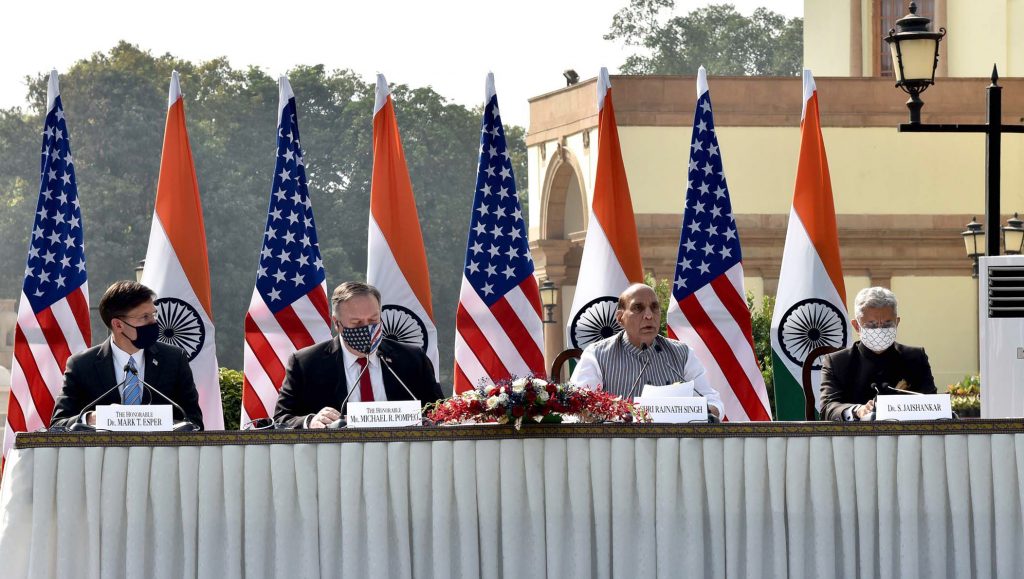 External Affairs & Defence Ministers discuss common issues with their US counterparts
BECA signed
New Delhi. 27 October 2020. The just concluded third India-US 2+2 dialogue is reflective of the two nations' Comprehensive Global Strategic Partnership.
"The 2+2 dialogue has a pol-mil agenda that underlines our close bilateral relationship. Our national security convergences have obviously grown in a more multi-polar world. We meet today to not only advance our own interests but to ensure that our bilateral cooperation makes a positive contribution in the world arena. We are also committed to addressing together global issues ranging from HADR situations to maritime security and counter-terrorism," stated External Affairs Minister Dr. S Jaishanker.
Indo-Pacific region was a particular focus of the talks. The two leaders reiterated the importance of peace, stability and prosperity for all countries in this region. This is possible only by upholding the rules based international order, ensuring the freedom of navigation in the international seas, promoting open connectivity and respecting the territorial integrity and sovereignty of all states. A multi-polar world must have a multi-polar Asia as its basis.
"Discussions also covered developments in our neighbouring countries. We made clear that cross-border terrorism is completely unacceptable. On Afghanistan, India's stakes in its security and stability are evident, as is our willingness to contribute to international efforts to that end. India enters the UN Security Council on 1st of January 2021 as a non-permanent member. We look forward to working with the United States there, as in other multilateral platforms. In conclusion, I thank Secretaries Pompeo and Esper once again for a very useful and very fruitful 2+2 dialogue," he added.
Defence Minister Raj Nath Singh following India- USA 2+2 Meeting informed, " signing of Basic Exchange and Cooperation Agreement for Geo-spatial Cooperation, BECA, today after signing of LEMOA in 2016 and COMCASA in 2018 is a significant achievement in that direction."
He highlighted some of the other noteworthy steps taken by both India and US in follow up to their earlier discussions. "These include Positioning a USN LO at IFC-IOR and Indian LO at NAVCENT, Bahrain; greater interaction and coordination with CENTCOM and AFRICOM; setting up of the COMSEC account and increasing the scope and complexities of our exercises. Now LO's at each other's establishments could be leveraged to enhance our information sharing architecture. To sum it up, our military to military cooperation is progressing well," Rajnath Sigh explained.
In today's meeting the two sides also explored probable capacity building and other joint cooperation activities in third countries, including India's neighbourhood and beyond. Convergence of views on a number of such proposals happened and the two nations will take those forward.
"I welcome the acceptance of our request for cooperation in the advanced field of maritime domain awareness. Both sides agreed to comprehend the requirements and initiate processes for joint development of requisite systems and expertise.In the Defence Industrial Cooperation area, we had a very candid and useful discussion. Recent initiative of 'Atmanirbhar Bharat' in Defence sector was underlined as a key driver and a guiding factor of our Defence Industrial Cooperation. I highlighted the capabilities of Indian Defence Industry and their usefulness in the supply chain of major US platforms and systems. We have identified priority Near-Term projects for joint development between respective agencies, which need to be fast tacked under the DTTI and resolved to work together in Defence R&D more efficiently," he said.
He also stated that Defence Innovation field has being growing consistently in their discussions in recent years, The instruments of ISA and iDEX/DIU MOl, which were agreed upon and signed during the last 2+2 meetings, are beginning to bear fruit. They welcomed holding of the inaugural meeting of iDEX-DIU in July 2020 through Video Conferencing and are looking forward to the first ISA Summit this year.
"In our meeting, we shared assessment of the security situation across the Indo Pacific. In that process, we reaffirmed our commitment to peace, stability and prosperity of all countries in this region. We also agreed that upholding the rules based international order, respecting the rule of law and freedom of navigation in the international seas and upholding the territorial integrity and sovereignty of all states are essential. Our defence cooperation is intended to further these objectives. Both sides welcomed Australia joining the forthcoming Malabar Exercise," he added.