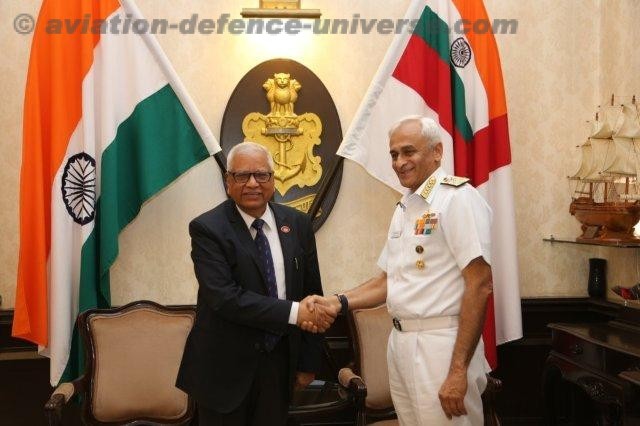 New Delhi. 31 December 2018. Humanitarian relief, overseas operations, internal commitments, joint exercises with more than half a dozen countries and launches, the Indian Navy had a busy 2018. Lets take a review.
Overseas Operations
Western Fleet (WF) Overseas Deployment (OSD): Western Fleet ships comprising Mumbai and Trikand were deployed for Western FleetOverseas Deployment from April 15 to May 23, 2018. During the deployment, the ships along with P8I aircraft participated in Phase III of EX-VARUNA, at/off Reunion Island, from May 01-07, 2018. Western Fleet ships comprising Kolkata and Trikand participated in exercise IBSAMAR at Simons Town, South Africa from October 01-13, 2018.
Malabar 18 and RIMPAC: Eastern Fleet ships comprising Sahyadri, Kamorta and Shakti were deployed for Eastern Fleet Overseas Deployment. The ships along with P8I aircraft participated in Exercise Malabar at Guam. On completion of Malabar 18, Kamorta and Shakti returned Visakhapatnam on July 07, 2018. Sahyadri thereafter participated in exercise RIMPAC at Hawaii and Kakadu at Darwin and finally arrived at Visakhapatnam on September 29, 2018.
International Fleet Review at Jeju: Eastern Fleet ship INS Rana was deployed for Eastern Fleet Overseas Deployment from September 17 to November 24, 2018. The ship participated in International Fleet Review at Jeju, South Korea between October 08-15, 2018. The ship participated in IND-INDO Bilateral exercise at Surabaya, Indonesia from November 12-16, 2018.
Overseas Deployment of 1 Training Squadron (1TS): Ships of 1 Training Squadron consisting of IN Ships Tir, Sujata, Sudarshini, Shardul and ICG Ship Sarathi were deployed in South-East Asia as part of training deployment from September 20 to October 22, 2018. The ships visited Lumut, Malaysia, Singapore and Jakarta, Indonesia. During the deployment IN ships Tir, Sujata and Shardul were diverted off Palu, Indonesia, to provide relief assistance to the Tsunami affected Island of Sulawesi.
Naval Operations/activities
Mission Based Deployments: Mission Based Deployments were implemented by Indian Navy (IN) in a phased manner, with an aim to safeguard national maritime interests and maintain continuous/near continuous presence in areas of significant maritime importance in the IOR. These deployments are in consonance with the PM's vision of 'Security and Growth for All in the Region (SAGAR)'. Since the inception of Mission Based Deployment in June 2017, IN ships and aircraft are being regularly deployed in the Gulf of Oman/Persian Gulf, Gulf of Aden/Red Sea, South and Central Indian Ocean Region (IOR), off Sunda Strait, Andaman Sea/ approaches to Malacca Strait and Northern Bay of Bengal.
IN Operational Exercises: In order to remain combat ready at all the time IN conducted Command level operational exercises ENCORE-18 (Eastern Naval Command), XPL-18 (Western Naval Command) and SHIKSHA-18 (Operational level war gaming exercise). These exercises also saw participation from the Army, Air Force and Coast Guard. The exercises facilitate refining of IN war plans, address Op Logistics issues and provide platform for smooth transition from peace to conflict.
Foreign Cooperation
Indian Ocean Naval Symposium (IONS): The IONS presently has 24 member countries with eight countries with observer status. Iran is the current 'Chair' of IONS. The construct has become an important Maritime construct to promote maritime cooperation amongst the member countries. During the Conclave of Chiefs held in Tehran in April 2018, it was decided to conduct the IONS Anti-piracy exercise by Iran in 2019 and India assumed Chairmanship of IWG Information Sharing and Interoperability (IS&I). Indian Navy also conducted commemorative activities for IONS 10th anniversary between November 13-14, 2018 at Kochi. Events included commemorative Seminar, Tall ship sail together from Kochi to Muscat and release of Special Day cover. Chiefs of 11 navies and 27 countries participated in the event.
MILAN-18: MILAN-18 was conducted at Port Blair from March 06-13, 2018. More than 30 delegates from 16 countries and 11 ships from eight countries participated in the MILAN. A Table-Top Exercise focussing on 'Enhancing Regional Cooperation for Combating Unlawful Activities at Sea' and a seminar on the theme 'In pursuit of Maritime Good Order – Need for Comprehensive Information Sharing Apparatus' was conducted during the 'Harbour Phase'. In the 'Sea Phase' participating ships undertook various exercises aimed at harnessing inter-operability in a variety of maritime scenarios including 'Search and Rescue' and 'Maritime Interdiction Operations'.
Supply of 2nd Dornier to Seychelles: Second Dornier aircraft was handed over to Seychelles Air Force on June 25, 2018 at a ceremony held in New Delhi. Deputy Chief of Naval Staff represented IN along with other Flag Officers during the ceremony. The first Dornier was supplied to Seychelles in January 2013.
37th Indian Scientific Expedition to Antarctica: Hydrographic survey team consisting of one Long Hydrography course qualified officer and one Hydrographic sailor participated in the 37th Indian Scientific Expedition to Antarctica from December 2017 to March 2018 for surveying India Bay area.
Important Events of Interest
MLAs/MPs/State Government Officials Day at Sea: Prime Minister during Combined Commanders' Conference 2015 directed IN to conduct day at sea for MP/MLA and State Government officials of the Coastal states of India. Till date, familiarisation sorties have been conducted for the states of West Bengal, Odisha, Andhra Pradesh, Tamil Nadu and Kerala. MLAs/ MPs/State Government officials 'Day at Sea' for Maharashtra was conducted on April 08, 2018, off Mumbai. A total of 146 MPs/MLAs/State Government officials including the Chief Minister embarked five IN ships for the 'Day at Sea'.
North Indian Ocean Hydrographic Commission: The 18th North Indian Ocean Hydrographic Commission (NIOHC) Conference was conducted from April 09-12, 2018 at Vasco-da-Gama, Goa by the Indian Naval Hydrographic Department (INHD). The Conference was chaired by VAdm Vinay Badhwar, NM, Chief Hydrographer and Chairman NIOHC. A total of 64 foreign delegates from International Hydrographic Organisation, Member States/countries and industries participated.
Artificial Intelligence: In pursuance of Govt. of India's initiative for harnessing technological advancements in the field of Artificial Intelligence (AI), a Task Force to study strategic implementation of AI for National Security and Defence was set up by MoD/DDP in February 2018. The Task Force consisted of eminent personalities from DRDO, BARC, IITs, Defence PSUs, industry and members from the three services. The Task Force report, which was submitted to Raksha Mantri on June 30, 2018, broadly included AI 'Use Cases' for implementation by three services, allocation of a portion of defence budget for AI projects, building up AI expertise and setting up AI command structure. INon its part has divided the AI use cases on the basis of short, medium and long term basis for implementation and is progressing four AI based proof-of-concept projects.
Navika Sagar Parikrama: INSV Tarini returned to India on May 21, 2018, on completion of the first Indian all-women circumnavigation of the globe. This is the first-ever Indian circumnavigation of the globe by an all-women crew.The vessel was flagged-in by Raksha Mantri Smt Nirmala Sitharaman at Goa. The crew met Prime Minister Shri Narendra Modi in New Delhi on May 23, 2018 and President at Rashtrapati Bhawan on June 01, 2018. The vessel covered 22,300 Nm during the voyage and met all the following criteria of circumnavigation. The expedition was in consonance with the National policy to empower women to attain their full potential. It also depicted 'Nari Shakti' on the world platform and helped discard the societal attitudes and mindset towards women in India by raising visibility of their participation in challenging environs. Also, the indigenously built 56-foot sailing vessel, INSV Tarini showcased the 'Make in India' initiative on the International forum.
SAR and HADR
Diving and Rescue Assistance: The Navy continued to provide rescue assistance to local authorities for Search and Rescue (SAR) of personnel having fallen into water bodies or drowned therein. In the on-going year, assistance has been provided for 110 requests. For SAR of a boat capsized in Godavari river on May 15, 2018, extensive air searches were provided by two Chetak helicopters, one UH3H and one DO.
Cyclone Berguitta – Mauritius: A Tropical depression 'Berguitta' crossed Mauritius on January 18, 2018. Based on request from HCI, Mauritius and MoD directives, INS Sarvekshak handed over relief materiel comprising provisions, clothing items and medicines to the Government of Mauritius on January 27, 2018.
Transhipment of Humanitarian Aid to Chittagong:IN ship Airavat was deployed for transhipment of Humanitarian aid to Chittagong from 05 – 14 May 18. A total of 345 tons of relief material was handed over to the Bangladesh Government.
Very Severe cyclone'Titli': On October 11, 2018, information was received at Eastern Naval Command, Vishakhapatnam regarding landfall of Very Severe cyclone'Titli' at Srikakulam. Based on assistance sought by the State Governments of Andhra Pradesh and Odisha, IN provided HADR and SAR assistance including air dropping of 3,000 food packets and 5,500 kgs of relief material at various locations, in coordination with the State administration. The IN teams were de-inducted on October 15, 2018.
Golden Globe Race: Commander Abhilash Tomy participated in the Golden Globe Race 2018, which is a 30,000 nautical mile solo sailing race around the world. It was started on July 01, 2018 from Les Sables-d'Olonne, France. On September 21, 2018, whilst Cdr Abhilash Tomy was contesting in the 3rd position, his yacht 'SV Thuriya' dismasted in rough seas in the Indian Ocean, injuring him. He was stranded 3,200 km off the coast of Western Australia after the incident. In a joint rescue operation (India, France and Australia), led by the Maritime Rescue Coordination Centre Canberra, Cdr Tomy was rescued on 24 Sep 18 by the French fishing vessel Osiris and brought to Ile De Amsterdam for receiving medical care. IN ship Satpura embarked Cdr Tomy from Ile De Amsterdam and brought him back to India.
International Level Sports Championships
Hong Kong Gymnastics Championship: Rakesh Patra, (CPO PT), participated in Honk Kong Gymnastics Competition held between January20-21, 2018 and won 03 Gold medals.
President Cup: NT Lalbiakkima, SEA II (GS), of Navy Boxing team represented the country during President Cup held between June04-11, 2018 at Astana, Kazakhistan and won Bronze medal.
International Masters, Dubai: Rohit Kumar, PO ELA (R) and Surjeet, PO (GS), of Navy Kabaddi team represented the country in International Masters, Dubai from June 22-30, 2018 and won Gold medal.
Asian Wrestling Championship: Sachin Rathi, Sea II (GW), of Navy Wrestling team won Gold medal during the Junior Asian Wrestling Championship held from July 20-22, 2018 at New Delhi.
2018 World Wrestling Championship: Vijay, SEA II (GW), won silver medal the World Wrestling Championship held between September 17-23, 2018 at Tranav, Slovakia.
Mountaineering Adventures
All Women Expedition to Mt Deotibba: An all women Naval Mountaineering Expedition to Mt Deotibba was successfully conducted from May 28, 2018. Mt Deotibba is the second highest peak (6,001 mtr) in the Pir-Panjal range of Himachal Pradesh. The expedition has laid foundation for all women mountaineering team to scale many more challenging peaks in the near future. The team summited the peak on June 10, 2018.
Mt Menthosa (6,443 mtr) Expedition: A ten member mountaineering expedition to Mt Menthosa was flagged off from Kochi on Sep 21, 2018. The team successfully submitted the peak on Oct 16, 2018. The team comprised of three officers and seven sailors.