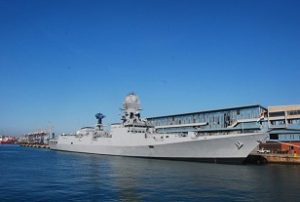 New Delhi. 20 September 2016. Indian Naval Ships Kolkata, Trikand and Aditya under the Command of the Flag Officer Commanding Western Fleet, Rear Admiral Ravneet Singh, NM arrived at Durban on 20 Sep 16 for a three day visit.
The ships are part of the Indian Navy's Western Fleet based at Mumbai under the Western Naval Command and are on a two month long deployment to the Western Indian Ocean. INS Kolkata is commanded by Captain Rahul Vilas Gokhale, INS Trikand is commanded by Captain Arjun Dev Nair and INS Aditya is commanded by Captain Vidyanshu Srivastava.
During the visit, the warships will have professional interactions with the South African Naval Forces (SAN) for enhancing co-operation and sharing the nuances of naval operations including combating maritime threats of terrorism and piracy. Calls on senior Government and military authorities, training and technical cooperation measures with SAN, sporting and cultural interactions, aimed at strengthening ties and mutual understanding between the two forces, are also planned.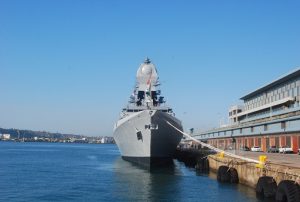 The last visit by an Indian Naval ship to South Africa was in November 2014, when Indian Naval Ship Teg made port call at Simon's Town and Cape Town as part of Exercise IBSAMAR, a trilateral maritime exercise involving navies of Brazil, India and South Africa. SAN also participated in International Fleet Review hosted by India in February 2016 and was represented by SAN ship Spioenkop. The current visit seeks to strengthen the existing bonds of friendship between India and South Africa and underscore India's peaceful presence and solidarity with friendly countries of the region.