By Sangeeta Saxena & Chaitali Bag
Bangkok. 29 August 2022. Thick black clouds, heavy rain and presence of General Prayut Chan-o-cha Thailand's Defence Minister, who till days ago was also the Prime Minister , made the inauguration of Defense & Security 2022 an event to remember. It was an equal interest from Thai and Foreign media when the just suspended Prime Minister entered the premises to fulfil his role as Defence Minister of the host nation.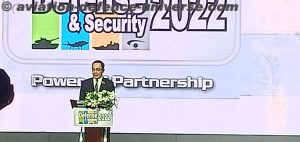 He declared open the show with elan and gratitude. "This year's event has been attested by the report from the Chairman of the organising committee, as well as Defence Ministers, Chiefs of Armed Forces, high ranking government officials and delegations from various countries.  The event showcases advanced security related equipment and technologies from countries around the world, covering all dimensions of defence," he said.
The Minister also complemented the full participation of manufacturers and entrepreneurs in the defence and internal security industries as well as disaster relief, who are here to showcase their new equipment and technologies that will contribute greatly to the work of the armed forces of Thailand as well as those of other countries in the region.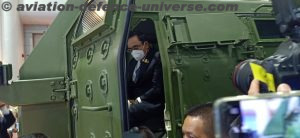 Over 276 official delegations from 32 countries are participating in the show. This was led by the Ministry of Defence, Chiefs of Armed Forces for Army, Navy and Air Force along with Senior Police officers, and key-decision makers from other high-ranking officials from around the world – especially ASEAN. Over the 4 days, these delegations will be busy with VIP tours, Government-to- Government (G2G) and Government-to-Business (G2B) meetings with exhibitors. All will exchange views and are projected to establish long-term associations and partnerships.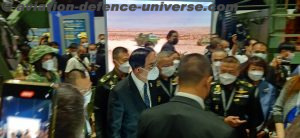 After the inauguration  his entourage visited the exhibition and the Minister personally examined the equipment and arms on display such as firearms systems, missiles, tanks, unmanned aerial vehicle (UAV), transport vehicles, ships, satellite systems, communication systems, long-distance electronic defense technology systems and fire control systems, from the world's major manufacturers exhibiting hailing from more than 15 countries, such as the United States, France, Singapore, Israel, India, Germany, Korea, China, the Czech Republic, etc., with many of the world's leading weapons companies coming to exhibit.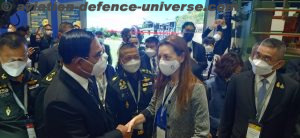 In addition, General Prayut also tried to sit up in Self-propelled artillery, ATMG wheels, size 155 mm, with a look at the interior equipment, this model has received technology transfer from Israel. And have tried lifting the gun model US ARMY XM5, size 7.62 * 51 mm, ready to try aiming and stated that the light weight is good.
'I have good morale', Big Tu as the Minister is popularily called. said during the opening of Defense & Security 2022.