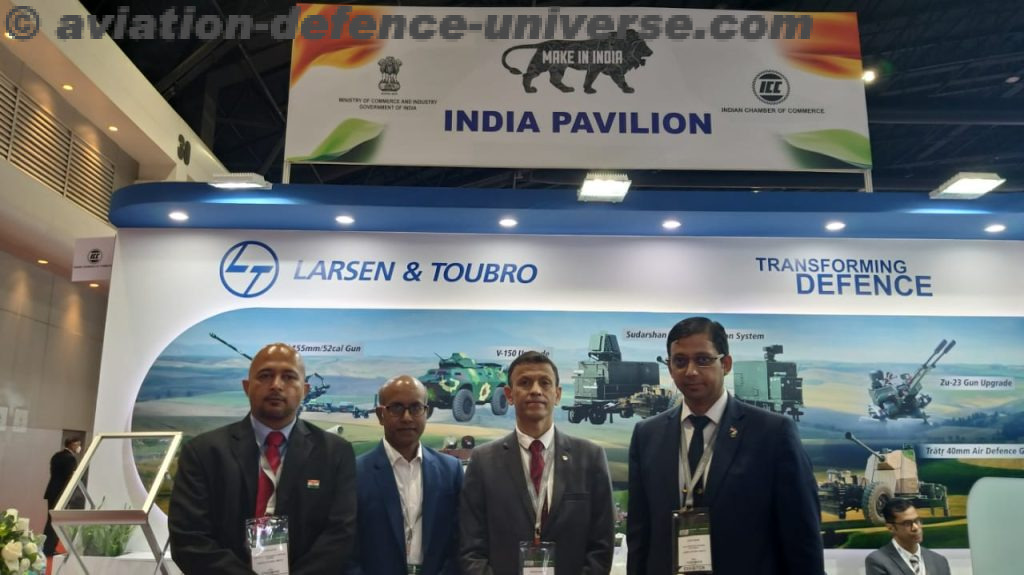 Showcases it's prowess at Defense & Security 2022 Bangkok
By Sangeeta Saxena
Bangkok. 30 August 2022. It is India's original success story of Make in India and Atmanirbhar Bharat in defence sector. A name which is now the nation's biggest brand and India's first multi-national company – Larsen & Toubro, is the trailblazer in defence manufacturing in India and has strong footprints globally. And definitely has attracted major attention at Defense & Security 2022 in Bangkok, Thailand.
From providing indigenous, design-to-delivery solutions from surveillance to strike capabilities, and mobility platforms essential to enhance their effectiveness, the Indian defence major also offered specialised turnkey defence construction solutions like underground structures, military bases, storage depots, smart infrastructure and modernisation of existing facilities, to the prospective customers visiting D&S2022.
Jayant D Patil,  Member of the Board and Sr. Executive Vice President (Defence & Smart Technologies), Larsen & Toubro in an exclusive with ADU stated, "In keeping with India's focus on Look East – Act East, given the geopolitical situation in the region, we are looking at empowering the India Friendly Nations in the region including Thailand with unique solutions across the tri-service domains. For the Naval domain we are looking at offering SOV 400 Midget Submarines as well as range of Autonomous & tethered Underwater Vehicles from our portfolio. For the Air Defence we are looking at Upgrading of their existing Air Defence Systems as also offering state-of-the-art Close-in-Weapon-Systems besides targets for crew training. For the Land Forces we are looking forward to upgrade existing fleet of M113 Armoured Personal Carriers with Weapon System upgrade, Electro-Optic Fire Control System as well as Mobility upgrade solutions."
L&T invests in the future through its dedicated DSIR recognised R&D Centres, that focuses on future technologies and create cutting-edge solutions in close coordination with the Armed Forces and DRDO Labs. Going beyond delivery, L&T's Through Life Support group provides total product lifecycle engagement, through a bouquet of customized services. It has set up eight state-of-the-art dedicated work centres, including a modern naval shipyard, a gun manufacturing & testing complex, and a specialised Strategic Systems Complex for weapon & engineering systems. Significant investments in manufacturing infrastructure, strong design and engineering resources, and proven results demonstrate our potential to consistently deliver reliable and battle ready indigenous defence solutions to the Armed Forces of the world.
L&T's defence is a completely on the path of digitalisation and has the state-of-the-art technologies which make it's product and works inventory suitable for defence forces globally. L&T India is one of the leaders in Industry 4.0 adoption, having adopted Industry 4.0 across its 13 engineering and manufacturing plants in India. This adoption includes IIOT-enabled remote welding stations, in-facility logistics management, internet-enabled facilities, data-driven decision making, forging, fabrications and equipment manufacturing.
The focus of the L&T will be its comprehensive capability in systems for underwater defence applications with an exclusive Underwater Experience Zone; Artillery Systems, e.g., Pinaka multi-barrel rocket launcher systems, and K9 Vajra Self Propelled Tracked Howitzer; display of construction of ships, Submarines & underwater platforms; Platform Management Solutions for Naval Platforms, and, C4I solutions. It has also  developed product innovations, viz. Armoured Systems Technologies, Air Independent Propulsion (AIP) System, and the Water-jet Propulsion System. In the area of Unmanned Systems, Sensors and Military Communications it has various radar systems including in-house developed breakthrough technologies   in this segment; tactical UAV; Communication Systems e.g., Rapid Deployed Communication System (RDCS), Standby Instrumentation System (SIS), and Software Defined Radio (SDR). The list is long and this one not exhaustive. L7T Defence is planning to expand its footprint and market in South East Asia and what better than a local show in the region to showcase it's prowess.