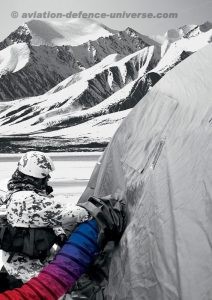 Tokyo. 15 November 2019. In November 2019, renowned DSEI London will be hosting a large defence and security exhibition and conference in Tokyo called DSEI Japan. With a significantly increased Japanese defence budget and an ongoing search for locally rooted business partners, the timing could hardly be better for Dantherm A/S, a leading manufacturer of mobile heating and cooling solutions headquartered in Denmark.
Participating in the exhibition is a strategic milestone in targeting the Asian markets. Dantherm considers the Japanese market a hub and centre for military and humanitarian business in the Asian region, and the Danish company has already been exploring business opportunities in the Japanese and Asian markets for a couple of years.
Great expectations for DSEI Japan
Dantherm has already established contact with several Japanese and Korean companies talking about both military and humanitarian projects coming up within the next few years in the region.
"Japan has increased its defence budget significantly. Combined with the fact that the Asian market is part of our market strategy, it is of utmost relevance and importance for us to be part of DSEI Japan 2019", says Kim Mathiassen, Area Sales Manager at Dantherm.
The exhibiting in Tokyo is the perfect arena for becoming more visible in the region and for creating new and prosperous business contacts as well as it is great place to meet up with existing contacts according to Mathiassen: "With our experience from 15 consecutive DSEI London events in mind, we did not have to think twice before deciding to participate in the DSEI Japan initiative as we expect the same professional management, business concept and many relevant visitors matching our needs and business areas. The organisers have proven that they are able to attract visitors in our business area and some of the other exhibitors are potential customers and business partners for us."