By Sangeeta Saxena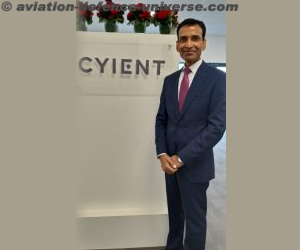 Farnborough, UK. 21 July 2022. "Cyient helps A&D OEMs and Tier 1 suppliers transform their product life cycle. Our engineering solutions adhere to rigorous compliance systems that meet the wide spectrum of security parameters, including the International Traffic in Arms Regulations (ITAR) and nation-specific restrictions. We also have Design Approval from the Centre for Military Airworthiness & Certification (CEMILAC), a laboratory of the Indian Defence Research and Development Organisation (DRDO) under the following scope: "Design, Development of Aero Structures, Aero Interiors, Aero Engines Parts and Systems, Aero Systems, and Avionics for Military Airborne Applications," informed Prabhakar Atla, President & Global Head – Aerospace, Rail and Communications for Cyient in an exclusive interview with Aviation & Defence Universe (ADU) at Farnborough International Airshow 2022.
 ADU. What is Cyient's role as a defence and aerospace company?
 PA. We are a design engineering company. In the aerospace sector we design, we build , we manage and we transform subsystems. Subsystems can be as complex as those going into an aerospace engine. Or can be any hardware product that go into the aircraft. This is what we do. We design them, we build them, we manage them. We also digitally transform the workflow of the value chain. So to speak our belief is that the next evolution of the propulsion systems and the aircraft will be primarily towards a mix of the convention plus hybrid. Of conventional plus renewable energies. So we are focusing on developing themes and concepts with our customers towards realizing them.
ADU. What is Cyient showcasing here at Farnborough?
 PA. We have three different concepts that we are showcasing, which are also different by the way. The first is concepts that are related to hybrid mobility or hybrid propulsion. The second thing we are looking at is which parts of these subsystems in the aircraft can be virtualized from a physical concept to a virtual construct. And we have won a very large contract with a key customer. In terms of a cloudified cockpit, it is a first ever of its type in the world. So we are demonstrating those concepts where you can reduce the design intensity, thereby making it more versatile. We also reduce the carbon footprint of any design on the product where you can change these systems and make it more user friendly, virtual and easily manageable. The third one is with whatever disruption is happening in the industry, which is happening still in terms of supply chain, companies are focusing on how they can optimize their own operations that is in their control.
How can they optimize their own manufacturing workflow, their own,  aftermarket workflow? These were themes before too, but they have become more urgent today. So we have a number of digital solutions that help companies optimize the performance of each of its tools, platforms, concepts deployed, where all clients are able to now compress the time required or the compress effort required at a cost required to manage their own operations in a digital space. That's the third area of focus for us in this show.
 ADU. How has the footprint been in the show for Cyient?
 PA. It's been very refreshing to be a part of this show. Not only because it was good to meet, but also because we were slightly skeptical in terms of what to expect. This is the first ever large industry show, which I remember across various industries. I work in, post the pandemic. I work in aerospace, I work in communications, but the degree of congregation I'm seeing here, is probably the first large, I would say, industry.
Of course the type of participation, the number of participants, is definitely going to be different compared to the past, but there's no compassion. The intensity, the spirit, the focus on getting things done, getting things moving is much, much higher than before. Every conversation was lot more focused.
Every discussion was towards an outcome because people clearly realize that we had to turn the conduct and we can turn when we can actually get outcomes from the discussions. So that's what we see my view on the show has been phenomenal in terms of the spirit. I can see resurgence is solid in the spirit, which basically means the numbers will follow upwards.
 ADU. What is Cyient's global presence ?
 PA. We may have Indian origin, we are an India headquartered company, but we are fairly global. Approximately half of our design capabilities are globalized already. Not only in India , we have manufacturing facilities abroad too. Therefore, our business is also spread fairly global. UK is an important hub for us for business, but we also have business across various countries in Europe.
We've expanded operations significantly in Europe. Two acquisitions in Europe in the last three months, one is based on communications and second is currently in the space of plant engineering are our achievements. So we are seeing a significant potential to continue expanding footprint in Europe.
ADU. In case of using alternate energy, will it need to upgrade the existing hardware ? Also will the existing customers feel a financial repercussion if they want to switch?
 PA. We can understand yes, this is separate. It could be expensive  than the traditional fuel, but one has to find ways to make it  lucrative for the customer?  The industries has always been in a state of constant evolution. The kind of engines that flew before are not the same as that are flying right now, nor will be these be the ones that will fly in the future. Just to give you an example,  even before we talk about improving the carbon footprint of the engines today, our client and we have already designed a new one, which burns 17% less, fuel compared to the commercial engine. The concept there is that you put a gear in an engine so that it burns less fuel than what it is required in a commercial aircraft. So my point is that this evolution will continue. So when we design the next generation of the systems, we are going to focus on sustainability renewability and concepts that come along with it in terms of upgrading . It is not going to be a simple solution.
There are going to be different solutions for different subsystems. It can't be one. So if you're designing a completely new platform, you take a green field approach that is different, but when you're trying to upgrade or do a  maintenance for a current platform, you take it to subsystem levels.
They continue to run the way they are for the next section. It just needs a little change.  We continue doing that, but where it matters, where it can subject to the regulatory framework, which everybody has to work in. We can change, but change implemented has to go through a regulatory and a certification process. We also look at what is possible, what is physical, what is certifiable and how can we work on existing platforms?
ADU. Are these tailormade or general over the board?
PA. Not a simple answer. It's always going to be specific in terms of subsystems. And also is it specific and tailor made as for the client's requirement or you have over the board solutions and the client has to pick up from out of them. See, unfortunately or fortunately aerospace is a plan and nobody does anything in isolation. It doesn't really happen that way. So whenever there is a concept  we always work with a  set of clients to evaluate, to design and to implement. It's rarely that I can go and say, look, I started this and say, look, I want do something completely new and I'm gonna open my curtain and say, look here, I have it here.  I've made a checklist, that's if it works, it might work. But, by then, you know, will the same solution work for a military aircraft, for a commercial aircraft and for choppers? So this needs deep understanding.
 ADU. Do you have manufacturing facilities in Europe?
 PA. No we have two facilities one in India and the other in US. But nothing is off the table. If the need arises we can always have facilities anywhere.