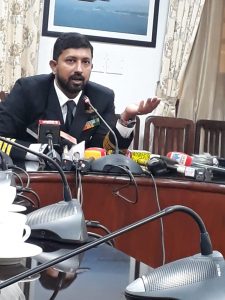 By Surbhi Mahajan
New Delhi. 19 January 2019. Commander Abhilash Tomy, the first Indian to sail non-stop around the world, is now recovering from the severe back injury after his indigenously built sailing vessel 'Thuriya' was dismasted. Since now he has recovered fundamentally, the Naval Legend is still hoping to go back to the sea, despite of many forms of fractures. "I never thought that I will not be rescued, I never hated the sea" he said.
"In a world where almost 6,000 people climb Everest every day, 600 people have gone to space till now; there are less than 100 people who undertake an expedition to circumnavigate the globe" said Tomy. Facing storms and rough seas, Commander Abhilash Tomy, without assistance, sailed non-stop around the world in 151 days on 1stNovember 2012. He appreciated the Indian Navy's attempts at circumnavigation by saying that "It was a life changing experience when I was accorded a warm welcome by then President, Pranab Mukherjee on my arrival".
Commander Tomy, who was the assistant of Dilip Donde during his circumnavigation, was asked to participate in next Sagar Parikrama Project by Indian Navy. "I immediately said yes and my world started from there", Commander said. Captain Dilip Donde set off 1st solo circumnavigation by an Indian who returned after 273 days and became the first Indian and 173rd person in the world to have undertaken successfully completed a solo circumnavigation of the earth with or without the stops on 19th August 2009. "This emboldened the navy and then after this project, nonstop solo circumnavigation of the earth was initiated", Tomy said.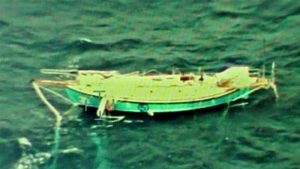 The incredible journey that Commander Tomy experienced in Golden Globe race was quite an experience. "Golden Globe Race decided to reenact the race which was the most dramatic and talked about of all times in 2018", he said. As a rule of the race, one was also not allowed to use any modern technology aid. "You could not use electronic items like watches, navigation aids, logs, cameras, no satellite communication, no internet, no GPS", said Tomy.
"In terms of modern technology, you were only allowed to use the aids that are important for search and rescue", Commander said. He also added, "Some mandatory items were satellite texting devices and satellite fonts which can only be used to connect to your race organizers and not you're family members or loved ones or anyone else. Conventional means was used for that purpose like high frequency sets and ham radio networks."
Commander Tomy made a replica of 'suhaili' called 'Thuriya' meaning pure consciousness. Sir Robin Knox- Johnston's 32 foot 'Suhaili' was the first boat to take a nonstop circumnavigation, built in 1923. Sir Robin was the consultant for the Indian Navy's first 2 projects – Sagar Parikrama I and II. Commander Tomy told about 'Thuriya', his 10 meter long companion, "Thuriya was the first boat to be registered under the new rules. Its construction started in Goa in March 2016 and was launched in August 2017."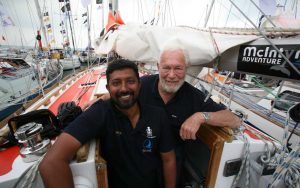 The young and ambitious sailor, Tomy preferred to sail alone, was evident when he jokingly said that, "Sailing with crew is like taking your in-laws to your honeymoon". "There were 17 participants who started the Golden Globe Race on 1st July and out of these 17, 4 participants decided to drop out in the 1st week itself" briefed the Commander. While in Falmouth, Tomy noticed that most of the ships there were manned by Indian crew and he was the only person from Asia to take part in around the world race.
Commander mentioned that he was tossed to the group of islands called Kerguelen, Crozet, St. Paul and Amsterdam by the strong sea waves. Describing the island, where he was stuck, Tomy said that "The things went wrong in a remote area which is highly inaccessible, that was 5,000 km away from India, 4,000 km from Australia, 5,000 km from South Africa and 3,000 km from Mauritius ." Bad seas and rough weather was predicted by him and other two participants he said.
"In the first knock down, gas was leaking, diesel was leaking out, everything was displaced, and knives and compasses were on the floor even the HF system was affected by the waves. His lower back was injured in the second knock down, he said. He also told that, "It was exceptionally difficult to manage in such a place" but he did with the timely and proactive support of Indian Navy.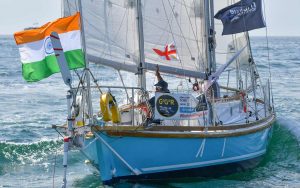 Tomy said that he feels lucky to be a part of Golden Globe Race. He was certain that Navy would be thinking of the ocean racing next as it is a very good way to train our youngsters in waves of the sea to get a deeper understanding of the sea.
No gender divide is exhibited by Indian Navy as another expedition launched by Indian Navy was Navika Sagar Parikrama, which gave opportunity to 6 women officers of Indian Navy to sail around the world on Sailing Vessel, 'Tarini', starting from Goa finished it in 2018. "Navy is putting concerted efforts and resources are also made available. The space is still to be filled for the first women solo circumnavigator; it's just a matter of time that someone volunteers" said Commander Tomy.